NIU remembers student for diligence, smile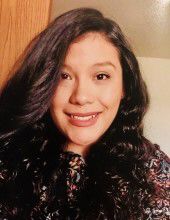 DeKALB — The Huskie community lost one of its own Nov. 2 to a fatal car accident that occurred in the late afternoon of Oct. 31. Evelyn Gonzalez-Jacobo will be remembered by those who knew her as a hard worker with a shining personality and a fierce dedication to her work.
Gonzalez-Jacobo was born in Hidalgo, Michoacan, Mexico, according to her obituary on the Olson Funeral and Cremation Services website.
Her family came to the United States when she was still in high school, and by the time she came to NIU, she was proficient in English, according to an email from Director of Communications Paula Meyer.
"[She] had the rare ability to express complex ideas in a coherent, clear way, and I have not seen this very often," associate Spanish professor Francisco Solares-Larrave said.
Gonzalez-Jacobo was set to graduate with her bachelor's degree in December. She is survived by her eight-year-old son, according to the release.
"What I remember most vividly about [her] is her smile," Frances Jaeger, associate professor of foreign language and literature, said. "She approached everything smiling, even though her workload was exceptionally heavy. Her diligence was exceptional. She never complained about her workload, she did not ask for extensions for assignments and she was always well prepared for class and exams. She never appeared frazzled or overwhelmed. She just smiled."
Gonzalez-Jacobo had an impact on many who knew her, including numerous professors at NIU.
Karen Lichtman, assistant professor of foreign language and literature, said that Gonzalez-Jacobo was one of the kindest students she had ever taught.
Mandy Faretta-Stutenberg, assistant professor of foreign language and literature and spanish basic language program director, said she was struck by Gonzalez-Jacobo's kindness, patience and depth of engagement with course concepts and activities.
As a student and single mother, Gonzalez-Jacobo worked as a 3M operator when not working as a student-teacher, according to her obituary, but these heavy responsibilities did not take away from her schoolwork. In the spring of 2019, she was named the recipient of NIU's Outstanding Women Student award, according to the release.
"Class size in the Department of World Languages and Cultures rarely exceeds 25 students, so the faculty are able to get to know their students well, and the department is deeply saddened, and greatly affected by her sudden death," Meyer wrote in the release.
"Evelyn was an exceptional student, a great writer and a very kind, generous person," Jaeger wrote in a Nov. 3 Facebook post. "Her death diminishes the world."
Donations to Gonzales-Jacobo's family are currently being accepted through a GoFundMe page.