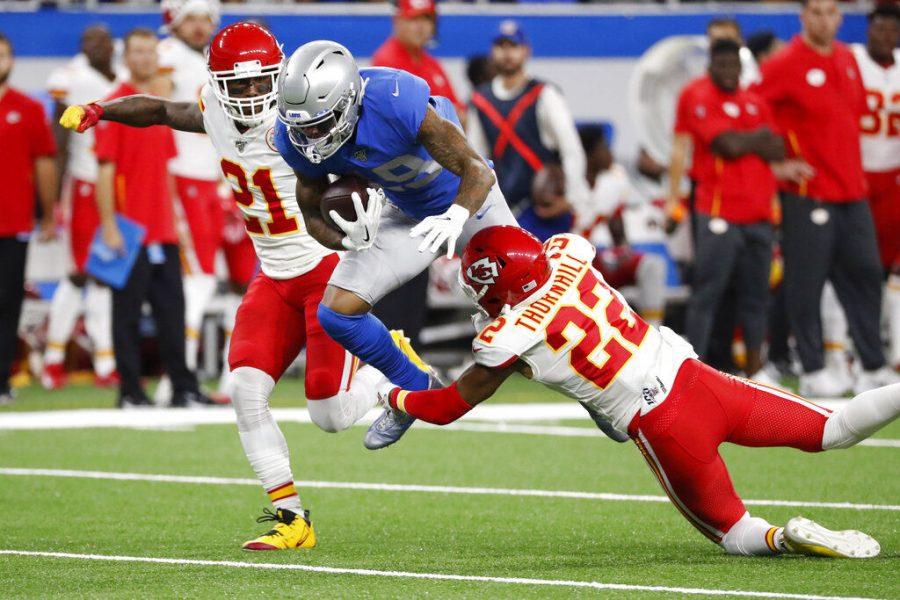 DeKALB — Four former NIU football players remain in the NFL, including one who is part of the only remaining undefeated team in the NFC.
Defensive back Jimmie Ward of the San Francisco 49ers made his season debut Monday night against the Cleveland Browns, picking up three tackles. Ward missed the first three games of the season with a broken finger.
What was five former NIU players in the NFL is down to four following an injury that has put wide receiver Chad Beebe of the Minnesota Vikings on the injured reserve list.
After picking up two receptions in his first three games, torn ligaments found in his ankle sidelined the 2017 NIU grad.
Fellow former Huskie wide receiver Kenny Golladay of the Detroit Lions already has four touchdown catches this season, one shy of matching his career high. Golladay has 247 receiving yards and three touchdowns in three games, including 117 yards in the Lions' first game of the season.
Golladay's Lions teammate and former Huskie cornerback Rashaan Melvin, has five pass deflections and 19 tackles in four games this season.
The newest Huskie alumnus in the NFL, offensive lineman Max Scharping of the Houston Texans, is off to a quick start in the league. Scharping has started the last three games for Houston, and has been on the field for the last 199 offensive snaps.
More former NIU players will be seeing a pro football field soon, with many expected to be drafted to the XFL in their draft next week.
Running back Joel Bouagnon is in the draft pool, as well as cornerback Albert Smalls and linebacker Boomer Mays.