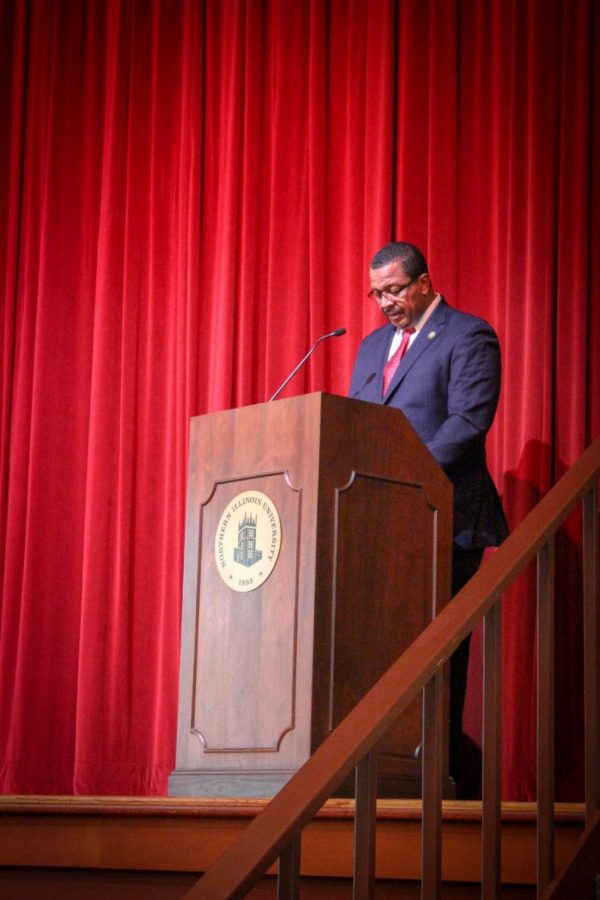 DeKALB — Wheeler Coleman has had ties with NIU since graduating in 1983 with a bachelor's degree in computer science, and since then, he has played an active role in the NIU community. Recently, Coleman announced he was stepping down from his position as the Board of Trustees chairperson.
Coleman was approved by former Gov. Pat Quinn and appointed to the Board of Trustees in 2012. He took over as chairperson for a year and a half starting in 2017 and announced he was stepping down in early December, although his term expired Jan. 21.
Dennis Barsema, Board of Trustees vice chair, will be filling his position until June 30 when trustees will vote on a permanent chair. Once elected for the chairperson of the board, the electee must also be approved by the governor.
Barsema said he has known Coleman for a long time through their work at NIU, but didn't really know him well in terms of working with him professionally until Coleman became chair.
"The last two years have been a great experience for me to get close to [Coleman] and his service leadership style," Barsema said. "I found that he is a great facilitator and listener."
Coleman said he had a great eight years on the Board, and he spent the recent year as chairperson learning more about the university and interacting with faculty and students.
"The last year and a half was a lot of heavy lifting, from the separation of our former president [Doug] Baker to the actual selection of [Lisa] Freeman to be our full-time president," Coleman said.
Barsema said a mistake leaders often make is talking too much, but Coleman does the opposite of this.
"I found [Coleman] to be a great listener, and based upon what he heard, he was excellent at facilitating, coordinating and collaborating a group of highly skilled people," Barsema said.
Coleman said compared to the previous 10 years, the past two were the hardest for the university to go through.
"Within the last two years, there was a lot of collaboration that had to occur — a lot of partnerships with other members of the trustees and individuals throughout the university committee in order to progress," Coleman said.
Coleman didn't return to NIU after graduating until 2010 when he became a member of the alumni association. Besides his work at NIU, Coleman is the CEO of EC-United, an IT consulting firm based in Chicago.
Before Coleman was chairperson of the Board, he served as vice chair, a member of the executive committee and a secretary.
Coleman said he believes there's a stronger board right now and believes the university has a strong leader in place with a good understanding of the school.
"Throughout the eight years, I served under [Emeritus] Peters, Baker, and now, Freeman; they all brought strength to the table," Coleman said. "Freeman, however, is in a position to move the university forward."
Coleman said the Board's primary goal within the university should be to increase enrollment and stabilize financials, as well as focusing on promoting diversity further.
"I think we have a great institution; we have to continue to challenge each other, to be better and to grow the university," Coleman said.
Barsema said the Board has already been making progress in that area with the Strategic Enrollment Management Plan, proposed by NIU President Lisa Freeman this month, and it's the first goal the university should focus on.
Freeman said it has been a pleasure to work with Coleman in his role as Board Chairperson and prior as a member of the Board.
"[Coleman's] passion for NIU and the success of our students, as well as his vision for NIU being a place of opportunity and access for all students, has been evident throughout his service," Freeman said. "I know he will continue to be an advocate and supporter of NIU."