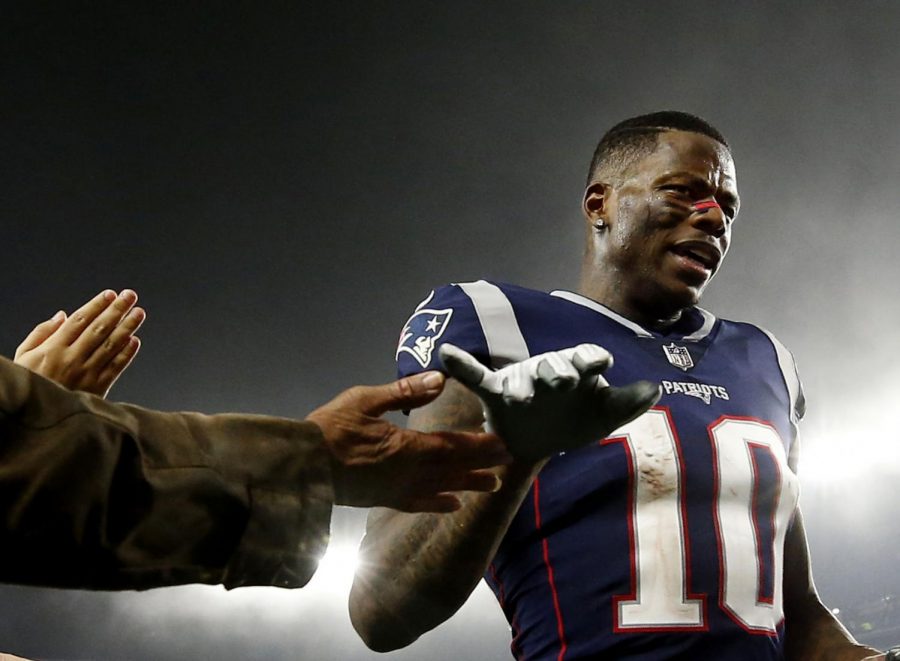 Wide receiver Josh Gordon was en route to make over $790 thousand with the New England Patriots during the 2018 season prior to his suspension and departure from the team last week.
Gordon announced in a Dec. 20 statement that he is stepping away from football to focus on his mental health.
""I take my mental health very seriously at this point to ensure I remain able to perform at the highest level," Gordon said. "I have recently felt like I could have a better grasp on things mentally. With that said, I will be stepping away from the football field for a bit to focus on my mental health."
Later that day, the NFL suspended Gordon for violating the league's drug policy, according to a Dec. 20 NFL.com article.
Gordon's issues and history with substance addiction are nothing new to the league, as the wide receiver previously served a suspension that lasted several seasons for violating the NFL substance abuse policy.
Few people thought Gordon had a football career after he was suspended indefinitely in 2015, but through rehabilitation and a period of sobriety, Gordon returned in 2017.
Gordon took a leave of absence earlier this season during training camp with the Cleveland Browns. The Browns traded Gordon to the Patriots following a hamstring injury.
Naturally, the focus for many commentators, is to focus on his NFL career and where it goes from here. ESPN commentator Stephen A. Smith, one of the leading voices in sports talk, talked about not Gordon's mental health, but his football ability.  
"I'm so disgusted at such wasted talent," Smith said on ESPN's First Take Dec. 20. "A wasted opportunity. An opportunity to take care of himself, his family and everyone else for the same reason."
Related: Kareem Hunt cut after video surfaces
Smith took his comments a step further the next day, saying on ESPN's Sportscenter that addiction is an illegitimate excuse for Gordon to not play.
"[Addiction] isn't cancer, this isn't Alzheimer's disease, dementia or something like that," Smith said.
To say that there are no dangers in dealing with mental health issues would be denying the horrifying facts about suicide, especially among men, in the US.
The American Foundation of Suicide Prevention reported that 47,173 people commited suicide in 2017, with men committing suicide more than three times more than women.
It is because of Smith and other sports columnists and commentators that it is best for Gordon to step away from football. The non-stop sports talk bubble that uses young athletes as characters in their soap operas is not an environment for someone to find comfort and control.
Managing mental health is already a tough enough challenge for anyone without a talking head saying they need to toughen up. Those dealing with mental health issues already have dozens of voices echoing in their heads every day.
Any kid who has even sat in class at school and wanted nothing more than to bury themselves in their seat and never come out can attest to the difficulty of functioning, let alone performing well, under the pressure of anxiety, depression or addiction.
Telling struggling 14-year olds they are a waste and to toughen up doesn't put them on the road to getting better. Picking them up, telling them they have worth and showing it does. Same applies to 27-year olds and any age in between.
Gordon should not have his level of success measured by playing time and money made. His media perception shouldn't be that he is a waste at just 27.
The only person that can truly measure Gordon's worth is himself through his happiness and his ability to live life. A six-figure contract and pro bowl appearances don't mean a lot if you can't be happy doing it.
The focus of Gordon should be on dealing with his addiction and his mental health issues. His football career can wait.
The goal of Gordon and the focus of the media that covers him shouldn't be on the football player Josh Gordon returning, but rather on the person Josh Gordon redeeming himself.
Gordon has once before, but he relapsed, and now he has a chance at redemption again. And whether it be in front of the nation or just in front of himself, let's hope he does.