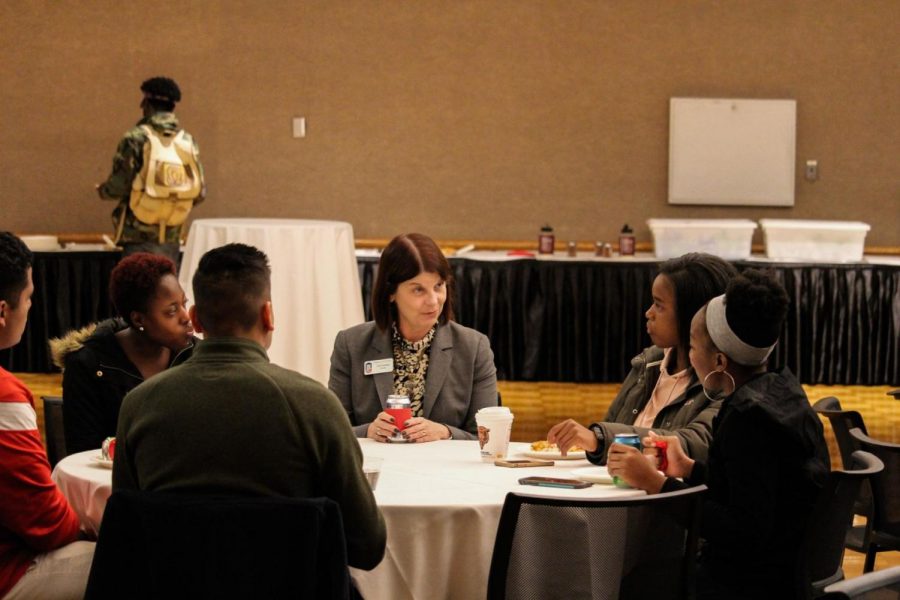 DeKALB — NIU President Lisa Freeman and Student Association President Khiree Cross joined students for lunch Monday to become better acquainted with one another and the student body.
Pizza with the Presidents was held in the Regency Room of the Holmes Student Center where pizza and light refreshments were provided. Freeman walked from table to table getting to know students individually through conversation.
Freeman said she and Cross created the event to interact more with students and get a chance to listen to what they have to say. She said she wanted to have conversations with students who represent all aspects of the university.
"I wanted to spend the first year of my permanent presidency having the opportunity to talk directly to faculty and students," Freeman said. "I can't do my job well if I don't know what the lives of students are like." 
Senior sociology major Aaron Hughes said he didn't just come to the event for the free pizza; he also came to meet Freeman.
"I came to the event today because I wanted to meet the president and get to know her better," Hughes said. "The event gives students a chance to reach out and see what the president has planned for the students."
Freeman said they titled the event Pizza with the Presidents to attract a broader representation of the student body instead of seeing the same students from the Student Association.
Junior sociology major Leslie Lopez said she heard about the event through flyers and thought it was a beneficial way for students to stay updated.
"This gives students an opportunity to feel connected with President [Freeman], and they can know the changes she is planning to make to the university," Lopez said. "I took this opportunity to come and meet the president in person. This is my first time meeting her, and I think it's really cool she is the first female president."
Cross said the event was a chance for students to talk to the presidents about problems they think need to be addressed on campus.
"This is an opportunity for students to express any concerns they have on campus," Cross said. "I think this is a great platform to do it; it's also a comfortable platform to do it too."
Freeman said students came to her and Cross with questions concerning how they could get more involved on campus to work with problems hands on.
Freeman said when she gets frustrated with some administrative aspects of her job, she finds it inspiring to talk to students.
"Students don't sugarcoat anything; they will tell me if things aren't working out for them," Freeman said. "They'll also be honest and give me positive feedback if things on campus are going right."
Freeman said the start of her presidency has been fun and busy, with a lot of planning for the future of NIU. She said it's an exciting time for the school.
"We've been thinking about opportunities to attract philanthropy and investment to NIU to grow our funding sources," Freeman said. "We want to be able to offer better programs and treat people and buildings better than we have been."
Cross said the Student Association has worked hard to promote voting among college students and getting the name of the Student Association on campus.
"So far this year, we have really pushed why it's important to vote," Cross said. "We've also worked on getting the referendum passed; I hope to spread the word more about the referendum to students."
Cross said he can only achieve so many things within a year of being president and wants to make sure the things he achieves stays for next year and so on.
"By the end of my presidency, I hope to have a firm support toward the undocumented students and create a more inclusive climate for students to have those hard conversations," Cross said.