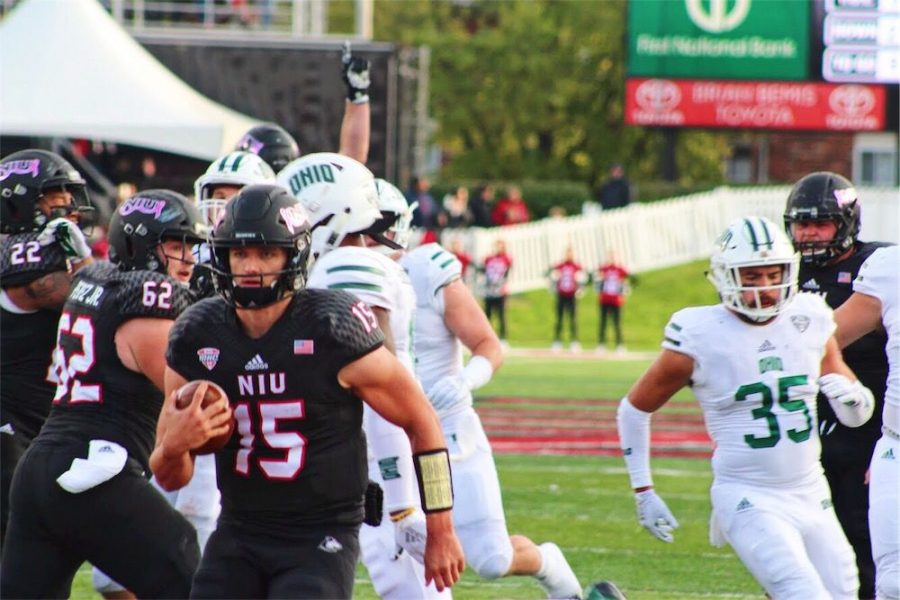 Fourth quarter heroics saves Huskies
The Huskies advance to 4-0 in Mid-American Conference play with a comeback 24-21 Homecoming victory against the Ohio Bobcats heading into their bye week.
The Huskies were penalized 12 times for 109 yards, including six for 80 yards in the third quarter. Those penalties allowed Ohio to take a 21-9 entering the fourth quarter.
Head Coach Rod Carey said his team's frustration with officiating manifested itself into an energetic comeback.
"We had to overcome a lot," Carey said. "When we stopped whining about the calls and just got mad about it a little bit, we played pretty good."
The fans at Huskie Stadium were treated to an air show Saturday from the Army Golden Knights and Ohio junior quarterback Nathan Rourke, who finished with 275 passing yards.
But it was the 169 yards gained on the ground by sophomore quarterback Marcus Childers that helped lead NIU to its third straight win.
Childers' running was on display early, helping the Huskies drive deep into Bobcat territory and net a 36-yard field goal by senior kicker Andrew Gantz for an early 3-0 lead.
Rourke flexed his muscles in the second quarter, finding wide receiver Isiah Cox in the open field for a 70-yard gain to put the Bobcats at the NIU 5.
Twice, the Huskies' defense forced a third and goal, and, twice, NIU committed pass interference penalties that reset the downs for Ohio. The Bobcats capitalized with a 2-yard touchdown by running back AJ Ouellette to take the 7-3 lead.
NIU responded on the ground, with a 30-yard run from Childers putting NIU in Ohio territory, allowing wide receiver DJ Brown to outrun the defense on a jet sweep for the 28-yard touchdown. A bobbled snap on the PAT meant the Huskies only held a 9-7 lead at halftime.
The Bobcats were driving into the Huskies' side of the field when junior safety Trayshon Foster forced a fumble that junior defensive end Sutton Smith recovered. The next drive, Foster struck again with an interception.
The Huskies didn't get a chance to see what other impact Foster could have, as his afternoon soon ended following a disqualification for a targeting penalty on the next drive.
Following the ejection, Rourke escaped several tacklers and found Cox wide open down the field for a 56-yard touchdown for a 14-9 lead.
The Bobcats stalled out on their drive with an incompletion on third down, but a flag was thrown for pass interference on senior cornerback Tifonte Hunt.
Hunt, in protest, took off his helmet, resulting in an unsportsmanlike conduct penalty, meaning a 30-yard gain on an incompletion for the Bobcats.
Ohio capitalized with a pass connection from Rourke to senior tight end Connor Brown for an 11-yard touchdown, extending their lead to 21-9 to end the third quarter.
NIU and Childers weathered the storm on their next drive with a 10-yard touchdown run to shrink Ohio's lead to five with 10:38 remaining.
Although the Huskies could have panicked offensively, Childers said the team rallied and executed.
"When we went down, I just got the guys together and said, 'Hey, we gotta go now,'" Childers said. "'We can't sit around and wait for someone else to make a play.'"
The Huskies' defense recovered well from their third quarter hiccups, with Smith forcing another fumble on a sack and recovering to give the Huskies the ball near midfield.
After a quiet game last week against, Smith finished with two fumble recoveries, two sacks and two and a half tackles for a loss. Smith said relentlessness paid off for a team that doesn't sweat high-pressure situations like they faced lately.
"That's a key to our success on defense is being relentless," Smith said. "If they get a good play or a first down, we're not flinching."
The Huskies' offense completed a 12-point comeback when junior running back Marcus Jones pushed his way into the endzone a 2-yard touchdown to give NIU the lead with 4:51 remaining.
On the two-point conversion after the touchdown, Childers connected with the big man, senior left tackle Max Scharping, on a lateral to extend their lead to 24-21, which would be the final score.
Carey said the play was one the team had been practicing all year. Scharping, who has started 45 games for the Huskies as an offensive lineman, had one thought going through his head when the play was called.
"Don't drop it," Scharping said. "Don't drop it."
The win puts NIU at a 4-3, while Ohio drops to 3-3. The Huskies will receive a bye week before playing another tough non-conference opponent, the Brigham Young Cougars, on the road Oct. 27.