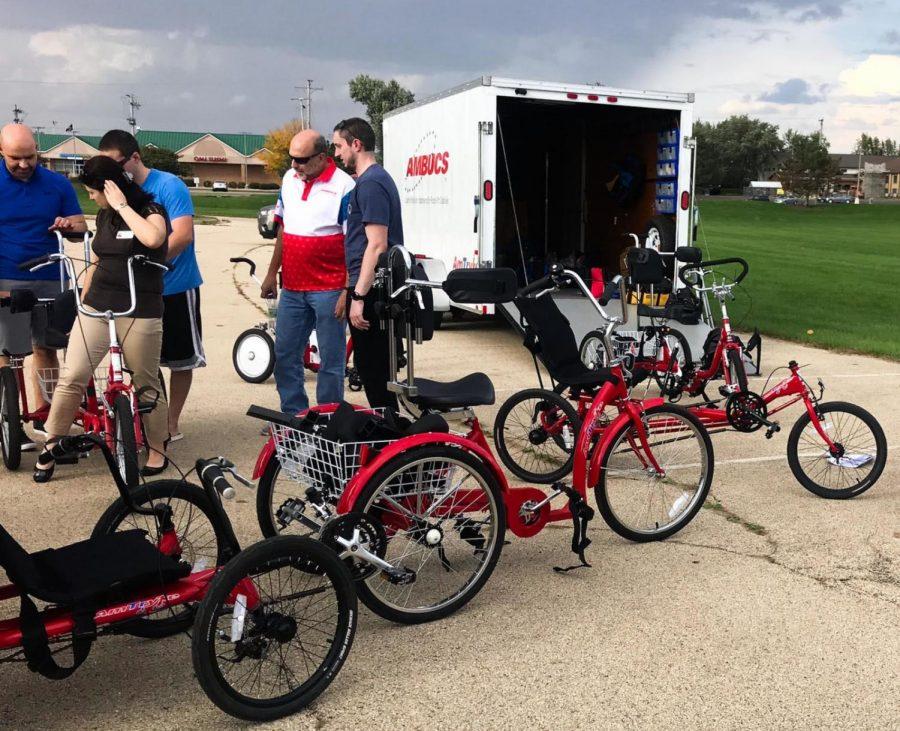 DeKALB – The Autism Caregiver Group held its first bike workshop Tuesday, offering anyone with Autism Spectrum Disorder [ASD] a chance to ride an adaptable bike specific to the rider's needs.
The Autism Caregiver Group is a group of professors who aim to help families affected by autism by providing educational information, group discussions and holding events like the bike workshop Tuesday, according to the Autism Caregiver Group website . The group was founded three years ago and holds monthly meetings with professional speakers to discuss topics such as picky eating and toilet training.
AMBUCS provided their Amtryke therapeutic bikes in 20 different styles at the Health, Wellness and Literacy Center for anyone ages two and up to try. The therapeutic bikes come in a wide range of models which are adaptable to anyone with special needs. The bikes can be adjusted from the frame size, seating and leg support.
Amtryke coordinator Alan Bedell said they always enjoy bringing their bikes to different therapy schools.
"Our bikes are given to the families with almost no charge, funded by our national organization or local chapters," Bedell said. "If [NIU] decides to start a chapter, then I'll come here once a year like this."
Physical therapy professor Christina Odeh, who was responsible for setting up the bike workshop, said the workshop's main goal is to create mobility and independence for people with disabilities. She also said NIU is considering founding an Amtryke chapter to support students affected by autism.
"We're looking to start an Amtryke chapter at the school and hold events like this one at least twice a semester," Odeh said. "Most of the kids up until right now were not able to ride a bike until today, and that's why we're here."
Odeh also said the bikes are completely adjustable from the arm rest to the seats, so the user has a greater chance of being able to ride the bike.
Physical therapy students helped measure each bike rider to make the bike was adaptable to them. Riders then tested the bikes by riding them around the Health,Wellness and Literacy Center parking lot with help from the students.
Allison Gladfelter, speech language pathology professor, helped co-found the event.  Gladfelter brought students from her speech class to help at the event and said it's good to have students from the speech and physical therapy departments involved.
"We like to think about therapy from multiple angles which is why we have students from physical therapy and speech departments helping the children," Gladfelter said. "The group plans to hold more events in the future such as horseback riding and a movie screening with a panel discussion for parents and caregivers."