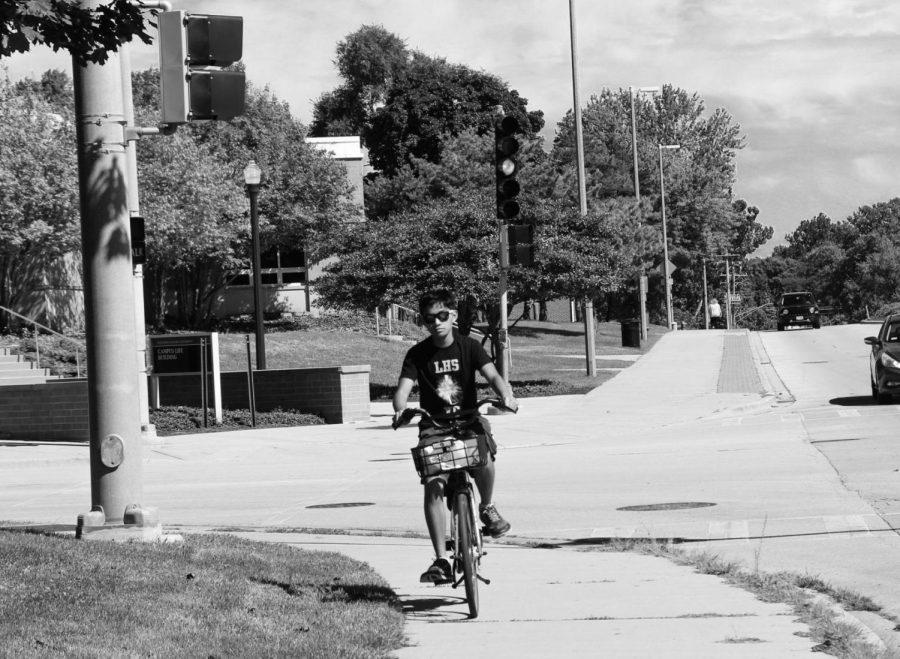 Walking and biking to class is a healthier and more effecient alternative to driving and parking in the NIU parking lots. Parking close to class can be a frustrating experience. Walking, biking or skateboarding will make it easier to get to class at a consistent time, and each of these alternative modes of transportation provide their own benefits.
Walking
The exercise obtained from walking five to 15 minutes from New Hall to Dusable and so on may seem insignificant at first but will add up over time. Walking can also provide numerous health benefits, adding to someone's quality of life in the long run.
On average, 210 to 311 calories are burned in a 30-minute aerobic exercise like walking, according to an Aug. 13 Harvard Medical School article. The walk from Stevenson to Reavis takes about 15 minutes, so if a student were to walk to and from class, they could effectively burn up to 311 calories.
Andrew Mercado, junior business administration major, commutes 20 to 25 minutes to NIU and said he can see the benefits of walking.
Student parking lots fill up very quickly and early in the mornings, and students who have later classes are often out of luck when trying to find spots. When this is the case, it is better if students walk to ensure they make it to class on time.
"When I have class at 8 a.m. then there's no problem, but on Tuesday and Thursday," Mercado said, "when I have class at 11 a.m., it takes me about half an hour to find a parking spot."
Mercado said he would consider parking an extra five to 10 minutes away from class in a reliable spot and walking the difference.
In addition, walking can help increase heart health and can help prevent high blood pressure and type two diabetes along with other diseases, according to the Mayo Clinic website. While it may seem daunting to walk even for five minutes out in the cold, the weather has held up and students should enjoy the sun and reap the health benefits while they can.
Biking
For students who don't like to walk, biking can provide similar benefits, and NIU offers plenty of resources for those interested in getting to class by bike.
Biking can be quicker than walking, while still providing plenty of aid to a student's health. For example, cycling is associated with a lower risk of cardiovascular disease, cancer and many other life-threatening conditions, according to a 2017 study done by BMJ that collected data from 263,450 commuters.
Bike racks can be located outside of every residence hall and most buildings around campus for students to lock their bikes after arriving to class. For those who do not have access to a bike, there are VeoRide bikes located around campus.
VeoRide is a bike-sharing program that makes biking to class more accessible, with bikes being left where previous riders left them.
Campus Services Director Laura Lundelius said her department, NIU students, Campus Parking Services, Environmental Studies, DeKalb Sycamore Area Transportation Study and City of DeKalb collaborated together to provide this bike-sharing program with 100 bikes on campus.
VeoRide uses a tracker to monitor how many bikes are used in order to access the need for the future, according to an April 26 Northern Star article. If students use more of these bikes, VeoRide will offer more, and students will not have to worry about finding a parking spot because they can hook the bike up to the rack and head into class right away.
Each bike is locked to the rack, and once students access the app, they are able to unlock the bike and pay as they ride. For every 15 minutes students rent the bike, they pay 50 cents. This price is far more affordable than a parking permit that would only lead to stress.
Senior engineering major Justin Campbell said he finds parking difficult and biking more reliable and quicker. Campbell started driving to class this year after a few years of biking and said he much prefers the latter.
"I don't have to worry about parking spots," Campbell said.
The NIU parking situation is not ideal, and it is crucial students consider how beneficial walking and biking can be. Walking or biking can help students focus on getting to class on time, while also helping them be healthy without thinking about it.