Longtime student advocate set to retire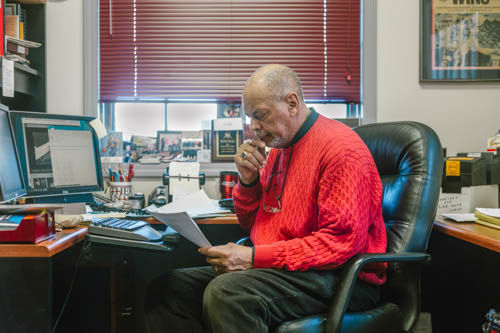 DeKALB — The university will lose one of its longest serving members June 1.
Don Bramlett, Center for Black Studies graduation specialist, came to the university in 1976 with the mission of advocating for students. His work has persisted over the past four decades, and his retirement will certainly create a void that will be difficult to fill.
"You can definitely hire someone to do the nitty gritty things, but no one's going to replace Don," said Khiree Cross, Student Association president-elect. "He's irreplaceable."
All of Bramlett's time and energy at NIU has been put toward creating services and organizations that support student success.
He said he first began in the CHANCE Office as a counselor, but after seven years, he set out to develop the Student-Athlete Academic Support Services, where he served as an advisor for 15 years.
He then went on to serve as the director of the Student Retention Program, which is where he noticed the graduation and retention rates for black males were low. Instead of wondering why they remained low, he made a point to change the pattern.
"I don't want students to come here, to be here for three years or whatever, and accumulate debt and not get their degree," Bramlett said.
He said he realized if a black or Latino male is accepted to the university but isn't attached to an organization, such as athletics, honors, the CHANCE program or band, they often find it difficult to navigate the institution and don't know where to turn for help.
One of his goals to erase some of those obstacles was to create organizations that empowered those students while allowing them to be their own support systems.
"It's amazing to me what some of the students walk around with," Bramlett said. "I mean, personal stuff, lots of loss of friends and family and stuff, and they're still here. They're still pushing forward."
The first student organization he created was Black Male Initiative in 2001. Bramlett said the group's main pillars encourage academic success, community service, social interaction, mentoring and image busting. He said image busting involved BMI members dressing in suits on Monday to challenge people's perspectives of black men dressed nicely, something people often associated with court appearances.
Cross, who is a BMI member, said Bramlett has been a great source of inspiration, and his decision to run for a Student Association leadership position was greatly influenced by Bramlett's encouragement and guidance.
"He gave me a lot of different reasons [why] I could do it," Cross said.
Bramlett also organized Supporting Opportunities for Latinos in 2006 and the Latino Student Alliance in 2011.
But it's not necessary to be a minority male to receive Bramlett's help.
"I thinks it's important to have people on campus who are really strong advocates of our students and who will follow up for students," Bramlett said.
One of the advantages to hanging around the university for over four decades, Bramlett said, is being able to have direct access to directors of different programs. He said when a student reaches out for his help, the first thing he does is try to figure out what he can do to assist that student to "untie the bureaucratic red tape," and stop the "Huskie shuffle," which often means visits to different directors' offices.
"Everyone on campus, I think, understands the length Don goes to to impact the effects on students," said Gena Flynn, director of Center for Black Studies. "They know he won't turn any student away."
Flynn said Bramlett tries to challenge students' perception of short-term and tries to teach them the benefits of fulfilling long-term goals, such as graduation from college.
"I think the number of students who've graduated because of Don is a testament to his work," Flynn said.
Bramlett's advocacy for students is what motivates himand in turn encourages students to look beyond tomorrow's exam and toward their graduation day, Flynn said. She said his commitment and passion for student success is what drove him out of his first retirement in 2007 and what makes him answer the phone late at night when a student seeking help reaches out to him.
"I've been in higher education for 18 years, and I would say Don is one of, if not the most, committed person to students I've ever dealt with, and it's not for the pay," Flynn said.
Whether he's helping students navigate the university, guiding students through their personal and financial issues or just being someone who cares, students like Cross are sure to miss him.
"I think Don's legacy is unmeasurable," Cross said. "He's done so much."
But Bramlett said he just wants students to believe in themselves.
"Just keep moving and graduate," Bramlett said."I just want to leave the legacy that you can do it."
Correction: This article previously reported BMI began in 2002, which is incorrect. BMI began in 2001. The story has been changed with the correct information.