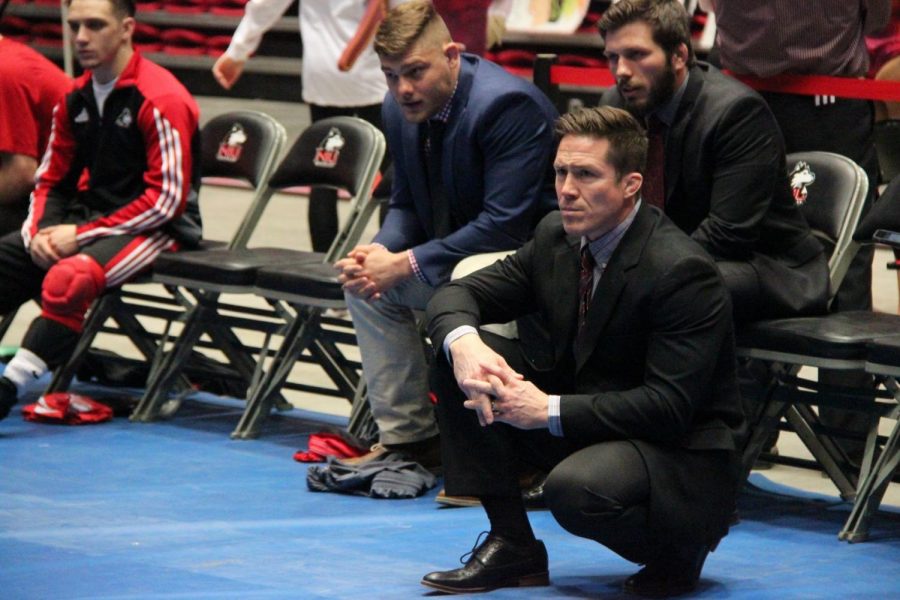 Northern Star File Photo
The wrestling team (3-10, 1-6 Mid-American Conference) wrapped up its 2017-18 season following the elimination of sophomore Brock Hudkins and redshirt junior Bryce Gorman at the NCAA tournament Saturday. The Huskies struggled this season, coming in last place in the conference.
Here are three takeaways from the wrestling season.
1. Brock Hudkins will continue to be the leader of the pack
Hudkins has been the most consistent grappler on the squad. Hudkins posted a record of 19-12 this season, improving on his freshman season by one win. He was a leader on and off the mat this season.
"As Brock progresses I expect his leadership role to grow," said Head Coach Ryan Ludwig. "Leadership and accountability among peers in daily activities is the goal."
Hudkins has been strong in the MAC, going 6-4 against Mid-American Conference foes, including a four-game winning streak. Hudkins should continue his development and make a deeper run in the MAC and NCAA Championships next season.
2. The young guys on the team will make huge improvements next season
Six of the 10 starters were freshmen or sophomores. The combined record from those six starters is 52-91, but the record is not indicative of the skill of these young grapplers. The potential for the team to make a turnaround next season are high. Ludwig and his staff should focus on the development of these men to make them more dominant wrestlers.
"Improvement is always expected," Ludwig said. "You have to earn it. You've got to train and keep your goals in mind through spring and summer."
With grapplers like sophomore Caden McWhirter, redshirt freshman Max Ihry and freshman Nolan Baker, the upside will be incredible if all the pieces fall into place. The young guys will be a force next season. Expect the team to have at least six NCAA qualifiers with guys like Hudkins, Gorman, McWhirter, Ihry, redshirt junior Quinton Rosser and redshirt junior Andrew Scott. The team works hard, so the development should be expected from Ludwig and his staff.
3. The Mid-American Conference is only going to get better
The Huskies struggled in conference play this year, suffering a 1-6 record. The MAC will continue to be a challenge each and every year. The University of Missouri Tigers went undefeated in conference play with a record of 7-0 and winning all 19 duals.
Solid teams like Central Michigan and Old Dominion went 5-2 in conference play. Kent State, Eastern Michigan, Ohio and Buffalo went sub .500 in conference play. The wrestling team may have the potential to become a dominant wrestling squad similar to the Tigers.
"The MAC is tough," Ludwig said. "The mixture of teams bring top flight competition. The addition of SIU-E will add another dynamic. It will be nice to have another in-state school in the mix."