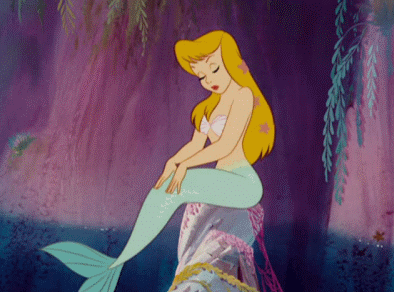 Say goodbye to the unicorn and hello to the mermaid. Get ready to flip your fins and break out your dingle-hoppers!
Many cosmetic companies are catching on to the trend and coming out with mermaid-themed makeup, such as eyeshadow palettes and sparkling highlighters. With these simple little tips and tricks, you'll be ready to weather the harshest waves…in sea-style of course. 
Fishtail Eyebrows
This is the newest brow trend to hit the beauty community, and it gives off total mermaid vibes. First seen by SkyzEditz on February 17, this eyebrow look resembles a fishtail in the way that the brow splits off in opposite directions. The look itself is easy to recreate, needing only the eyebrow product of your choice and some concealer to divide the fins. 
Wet and Wild Mermaid Highlighter
Wet and Wild, one of my drugstore favorites, released a line of "Midnight Mermaid" makeup, including luscious lipsticks and metallic liquid eyeliners. Their highlighter, "Mega Glo Highlighting Bar," is a knockout. With a pearl tone, a hint of green luminescence and a scale-print pattern, the highlighter will make your cheekbones pop all the way across the ocean.
Too Faced Magic Crystal Lip Topper
"Mermaid Tears" will help to finish off your entire mermaid makeup style. The sea-foam green might be a daunting color choice at first, given the current trends of nude and deeper colors. However, live fearlessly and give this glossy creation a chance. Feeling extra adventurous? Rather than explore the sea's deepest caverns, rock this product as a shimmery highlight.
Pastel Hair Chalk
Beachy waves are soooooo five years ago. Who cares the texture of your hair when we can get creative with color? Being a mermaid can't last forever, and we all need to grow our land legs again, so hair chalk is a perfect "minute-mermaid" solution. Hair chalk is easy to apply and washes out within a few days, perfect for those of us who don't like long-term commitments.