10 years later, learning from tragedy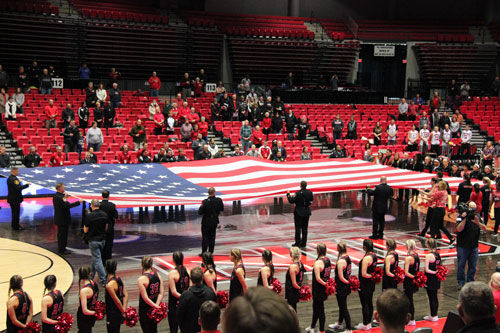 This two-part series looks at how NIU and DeKalb have changed the way they protect students and residents and approach crisis situations 10 years after the Feb. 14, 2008, shooting.
DeKALB — In the 10 years after the Feb. 14, 2008, Cole Hall shooting, law enforcement and the university have worked to find ways to protect students and citizens.
Since the shooting, police have tried to ramp up the amount of training for active shooter situations, and DeKalb Police Department Commander Steve Lekkas said trainers and law enforcers are always looking for ways to improve the training to eventually protect more people.
"We've done a lot more training, and the training always improves," Lekkas said. "From every shooting and other incident that has happened, law enforcement and trainers have developed better skills."
Students and staff are being prepared now for active shooter situations through ALICE training. ALICE, is an acronym for what you should do during an active shooting situation, "Alert, Lockdown, Inform, Counter, Evacuate," and was formed by former law enforcement officer Greg Crane after the April 1999 Columbine High School shooting.
"We provide trainings such as ALICE to faculty, staff and students to equip them with skills to respond to dangerous situations," according to an official Feb. 9 NIU statement.
DeKalb Police have also joined a county-wide Special Operations team with the police department in Sycamore and NIU Campus Police.
"We have a team together where if we have an active situation and we need officers, we can send the message out to the county and have the SWAT team come out here," Lekkas said.
The police force is now more heavily equipped, and officers now carry automatic rifles in their squad cars as opposed to shotguns, Lekkas said.
One thing that has stayed a constant, before and after the shooting, is the stance on concealed carry on university property from university and state policy. The university's policy strictly prohibits guns on school grounds under university and state policy. The state of Illinois passed the Illinois Firearm Concealed Carry Act in 2012, allowing qualified users to carry concealed firearms in Illinois; under the Illinois Unlawful Use of Weapons legislation, guns are barred from school and university grounds across the state.
"As far as your citizens, you want good responsible people," said Jason Leverton, DeKalb Police Department commander. "There's pros and cons to it, I think. Obviously, there are a lot of opinions out there."
Leverton said there is a responsibility required to be a concealed carrier.
On the 10th anniversary of the Cole Hall shooting, a shooter yet to be identified opened fire in a Parkland, Florida, high school, injuring at least 14, according to a Feb. 14 CNN report. Lekkas said the incidents that happened in Cole Hall and Parkland, Florida, can affect any community across the country.
"That can happen anywhere," Lekkas said. "That can happen in any community, so that shouldn't be a blemish on our community because of one incident."
Leverton said that it's always hard to know what the results of these changes will be, but it's better safe than sorry.
"One thing about prevention, and it doesn't matter what it is, you never know what you prevent," Leverton said. "That's what's hard to determine sometimes."