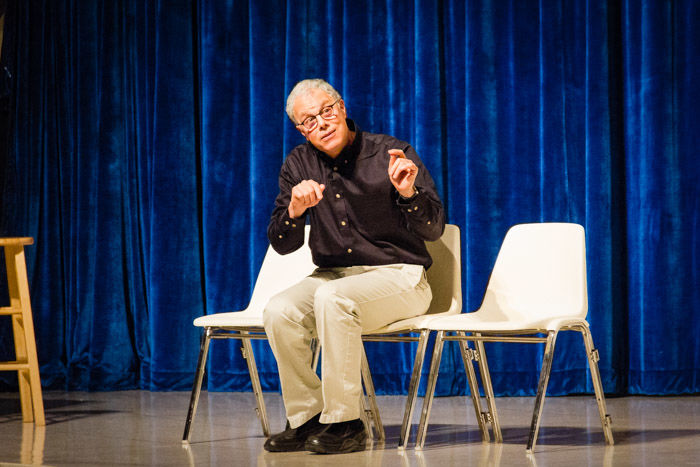 DeKALB — Entertainer Michael Fosberg brought his one-man show to campus Thursday.
Besides handing out business cards with the word "race" in bold capital letters on one side, Fosberg wrote and performed over a dozen characters in his play "Incognito." The performance recounts Fosberg's search for his biological father as a part of the university's Diversity Dialogue series.
The performance captures how his search for his biological father led him to find out he was African-American. The show displays his ever-evolving views on race and identity.
During the performance, Fosberg does a rendition about speaking to his father for the first time and learning that he's black, making Fosberg part Armenian from his mother's side and part African-American. Fosberg said he tries to use his story to create a conversation about race among those who see it.
"I want people to talk," Fosberg said. "I want people to open up. I know people will walk away thinking, 'I know that.' I want people to walk out and have a conversation about how they see themselves and how they look at other people."
Tamara Boston, graduate research assistant for the Office of Academic Diversity, Equity and Inclusion, said the office shares the same goal as Fosberg in their Diversity Dialogue series.
"The purpose of the diversity dialogues is to spark conversation in order for students and faculty and staff to understand and appreciate difference," Boston said.
Boston, who had previously seen "Incognito," said Diversity Dialogues are also meant to challenge how people think of different aspects of diversity, including race, sexuality, religion and gender. It's what she thinks made Fosberg's play great for sparking thought.
"That dialogue, for me, it was to challenge what we think of race," Boston said. "It goes back to that old saying, 'you should never judge a book by its cover.'"
Fosberg said the reason people need to talk to each other is to understand not what makes them different but what makes them alike.
"We all have the same kinds of joys, the same kinds of sorrow, the same kinds of abandonment," Fosberg said.
Fosberg held a Q&A after his Thursday performance in the Carl Sandburg Auditorium where he answered questions about his journey to discover himself and how people can create similar conversations. Fosberg said he loves to hear from audience members.
"I get people telling me all kinds of stories," Fosberg said. "It opens the door for people to tell all kinds of stories. I'm guessing there aren't many people in the audience that have had the same personal journey that I have had, but we all go on this journey to find out who we are."
"Incognito" was originally the name of Fosberg's book on his journey, but the idea for the show came after reading parts of the books to groups.
"I was asked to read some chapters from the book I'm writing for a group of people," Fosberg said. "I read these stories and people were laughing and crying; they were just deeply moved by it."
Fosberg's friends and peers convinced him to start performing the story in a play, and the show was born. He estimates he performs 60 to 70 times a year in front of audiences ranging from middle schools to corporate employees.
Fosberg shows a wide array of emotions in his show and said he still at times struggles to perform some parts of the show because of the impact they have on him. One such moment is when Fosberg relives yelling at his mother and not talking to her for six months.
"Those are things I'm not proud of," Fosberg said. "Although I have distanced myself from the personal aspects of the show…it still gets to me every night when I think about not talking to my mom for six months."
Fosberg said he has written one draft for a screenplay and is currently working on a second draft. He said he wanted to be the first one to try and put his story to a script.
"I just felt like if anyone was going to write it, I wanted the first crack," Fosberg said. "Where it goes from there, who knows?"