Faculty Senate discusses proposed legislation that affects admissions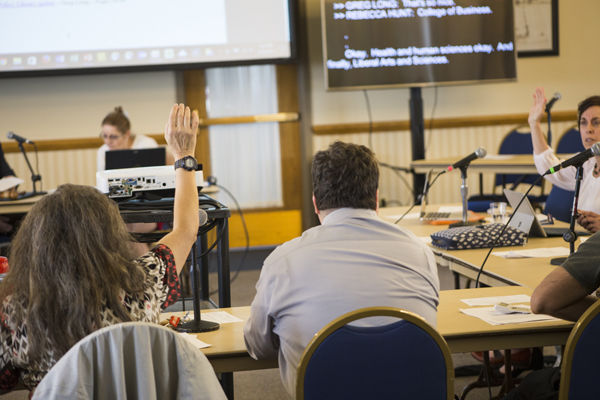 DeKALB — Faculty Senate members discussed recent legislation proposed by the Illinois House of Representatives that would influence admission procedures and budget prioritization for higher education.
The bill is an amendment to the Illinois Board of Higher Education Act that requires the board ensure any Illinois high school student with a 3.0 cumulative GPA or better "receives access to the opportunity of higher education and to guarantee admission into a public university," according to the Illinois General Assembly website.
House Bill 4103 was filed by State Rep. Dan Brady (R-Normal) Sept. 27. The bill had its first Illinois House of Representatives reading Oct. 12 and was referred to the Rules Committee. The Senate addressed questions about the bill during a Wednesday meeting.
"This is a relatively significant change in the students who would be accepted that would vary from institution," said biological sciences professor Virginia Naples.
The bill also includes the creation of the "Higher Education Strategic Centers of Excellence," which requires the Board to conduct a study of academic programs at every public university in the state and use the results to "determine which academic programs should be prioritized at campuses of public universities," according to General Assembly website.
The Council of the Illinois University Senates had a video chat Tuesday with Faculty Senate President Linda Saborio about the bill, which allowed Saborio to answer questions from the Senate during the Wednesday meeting.
Search is on for NIU's policy librarian
Saborio also announced the policy librarian position would be posted to the Human Resources website in the coming days.
The position is being offered to tenured faculty members. The first two years of the position will be in a full-time role, while the third year will be split into half-librarian role and half-faculty member role.
The role of the University Policy Librarian is to maintain and notify the university community of university policy and any potential changes from it.
The deadline to apply has been set for Nov. 17, after which applications will be reviewed by the Office of the Executive Secretary of University Council.