Board approves 3 percent raise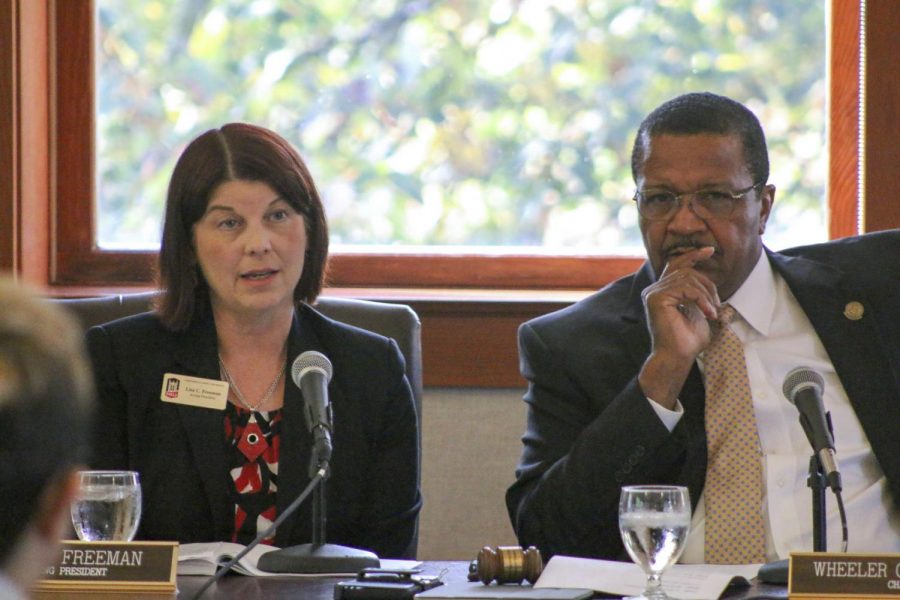 DeKALB — Less than 30 days after acting President Lisa Freeman's State of the University Address, a 3 percent raise for select university employees was approved by the Board of Trustees.
The Board held a special meeting 9 a.m. Thursday at Altgeld Hall, where it endorsed the proposal from Freeman's address. The plan is being internally funded by the university "despite our resource-restrained environment," Freeman said at the meeting.
Supportive professional staff members or temporary supportive professional staff that have worked for three or more consecutive years at the university are all eligible for the raise, as are non-represented temporary faculty that has worked for three consecutive years. Graduate students are able to receive the increase, as well, but hourly student employees are not.
Employees paid on a salary basis will see an increase beginning Nov. 30, while hourly employees will see the raise on Dec. 15.
While non-represented faculty and operating staff are automatically eligible for the raise, staff members that are represented by unions must negotiate their raises through bargaining agreements.
The university will continue to develop contract agreements with employees who are union members.
"NIU has been in negotiation with many of our collective bargaining units, and it's a matter of public record that NIU has presented inclement agreements that parallel to these inclement guidelines," Freeman said during the meeting.
Many attendants at the meeting wore Council 31 AFSCME shirts. AFSCME, or the American Federation of State, County and Municipal Employees, is one of the unions that has been negotiating a bargaining agreement between NIU and its members since 2016, Union Spokesperson Sara Dorner said in a Sept. 23 interview with the Northern Star.
Dorner delivered a statement at the meeting about the importance of the union and the negotiation process.
"A lot of people think that people form unions to get money," Dorner said. "People actually form unions to have a voice, and it's something people have not had — at least the people I represent."
Dorner said members of the union have not seen a wage increase in seven years. Most support staff union members make less than $15 an hour, according to an article on the union's bi-monthly report from August and September. Among union members, a 3 percent raise would mean an average increase of 44 cents an hour.
"It's not much, but it's a start," Dorner said.
Biological sciences professor Virginia Naples said she thinks the university must make sure to deliver raises to all of their employees.
"One of the things that I think would be very well-received by the public is that we are refocusing on the employees, who are a tool of resource for this university," Naples said.
Naples is also the president of the United Faculty Alliance, which represents tenure and tenure-track faculty. Members of the tenured and tenure-track faculty union have not received a raise since January of 2012.
Wheeler Coleman, Board of Trustees chairperson, said university officials will have to problem solve to determine how to fund the raises, as the Fiscal Year 2018 budget didn't account for increased wages.
"We will continue to look at opportunities to make sure we are spending our money appropriately, and we are taking care of our people as best we can," Coleman said. "We can not make up in one year seven years' worth of salary compression, but what we can do is make a good-faith attempt at taking care of employees at this university."