Faculty Senate voices salary concerns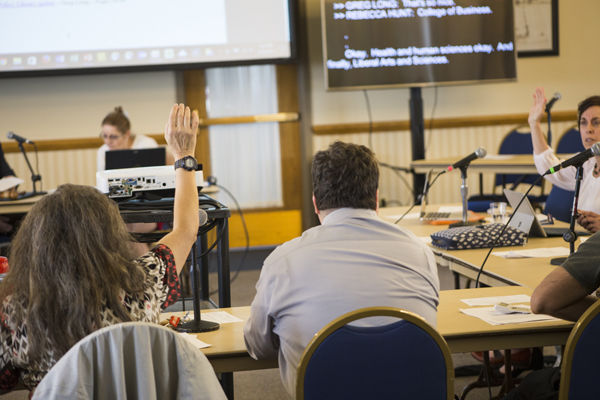 DeKALB — Faculty Senate members have developed concerns about the implementation of a salary increase amid faculty contract negotiations.
A report from one senator addressed the ongoing negotiations between the United Faculty Alliance, a union representing tenured and tenure-track faculty and the administration. Members of the union are trying to assure that unionized faculty members get the 3 percent raise unveiled by acting President Lisa Freeman during a Sept. 21 State of the University address.
Senators addressed issues that have arisen during the bargaining process, as they said administration at one point asked that in exchange for the raise, union members pledged to not strike or request further raises in the fiscal year.
"The administration does want to give us 3 percent, but it's going to be an issue of whether they need to negotiate contracts," said Faculty Senate President Linda Saborío during the Wednesday meeting.
The Board of Trustees will meet for approval of the 3 percent raise Oct. 19.
Enrollment initiatives
Sol Jensen, Department for Enrollment Management, Marketing and Communications vice president, delivered a presentation at the meeting about his undergraduate enrollment plan. Jensen revealed his strategy to reach his goals of increasing enrollment for out-of-state and international students. He said he will also work with colleges and departments to reach their own enrollment goals.
Jensen said a major initiative in his strategy is increasing campus visits, something he said is "crucial" to getting students to enroll at NIU. Jensen previously worked in enrollment at Washington State University and the University of North Dakota before joining NIU in June.
"Everywhere I've been, we've increased visits on campus," Jensen said. "The campus visit is so critical to a student's decision to enroll. And now, because we are going to bring in new students, we also need to improve the experience of the visit."
Jensen's job, according to his presentation, is to "recruit, admit, enroll, retain and graduate a diverse, academically-prepared student population." The diversity Jensen said he was looking for was students outside of the traditional college age.
Several members of the Faculty Senate were able to comment and voice concerns, one of which highlighted the importance of reaching out to younger K-12 students.
"Our enrollment is increasing because of seeds we planted 10 years ago," said Michael Haji-Sheikh, electrical engineering associate professor. "We go back, and we had someone specifically hired to go into middle schools, and some of those middle schoolers came to our college at different stages of their education. If you're going to high schools, you're already late."
General Counsel Search Committee appointment
The Faculty Senate also approved the addition of its Vice President George Slotsve to serve on the General Counsel Search Committee to help find a new general counsel.
"They just started forming the committee," Saborio said. "Once we have the committee structure approved by University Council, they will move forward from there."