Cubs secure pennant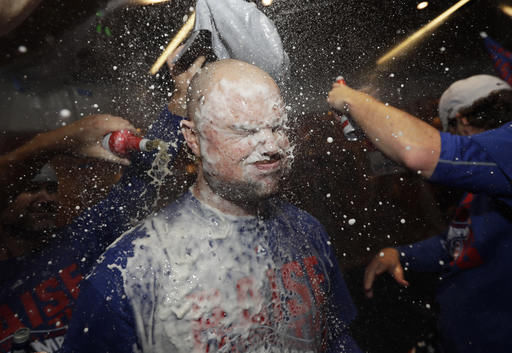 Tom Burton
October 24, 2016
CHICAGO | Thousands of longtime, loyal Chicago Cubs fans packed the friendly confines of Wrigley Field, and even more crowded the streets of Wrigleyville, to witness a piece of history Saturday night. 
The Cubs defeated the Los Angeles Dodgers 5-0 in game six to win the National League Championship Series 4-2 and will advance to their first World Series in 71 years.
The Cubs' offense got the best of Dodgers' ace Clayton Kershaw early in game six of the NLCS, as he gave up two runs in the top of the first inning. After eventually giving up a 5-0 lead, Kershaw was pulled after six innings.
Starting pitcher Kyle Hendricks started game six for the Cubs and went 7 2/3 innings of shutout baseball while only allowing the first and the last hitter he faced to reach on base hits.
Cubs starting pitcher Jon Lester went 1-0 with a 1.38 earned run average in two starts, earning him series co-MVP honors with Cubs' second baseman Javier Baez. Baez had several defensive gems during the series against the Dodgers and also batted .318 with four doubles, five RBIs and two stolen bases.
"Amazing. Amazing," Baez said after receiving the MVP award as fans chanted his name, according to MLB's website. "It's crazy living this life right now."
The Cubs' struggles of not hitting the ball carried over from the National League Divisional Series against San Francisco Giants.
Until game three of the NLCS, Cubs' first basemen Anthony Rizzo and shortstop Addison Russell had three hits combined and zero RBIs after combining for 204 in the regular season. The bats came alive in game three with both players hitting a homerun.
This ignited the rest of the team as the Cubs got their bats going and scored 18 runs combined in games four and five at Dodger Stadium, taking a 3-2 lead in the series. The Cubs have only two World Series appearances in the past 108 years. In their most recent appearance in 1945, the Cubs fell to the Detroit Tigers 4-3.
This year, the Cubs will face the American League Champion Cleveland Indians, who are making their first World Series appearance since 1997.
The World Series begins with game one 7:08 p.m. Tuesday at Progressive Field in Cleveland and will broadcast on FOX.
Go to NorthernStar.info/Sports to see students' reactions to the win.