City council freezes gaming licenses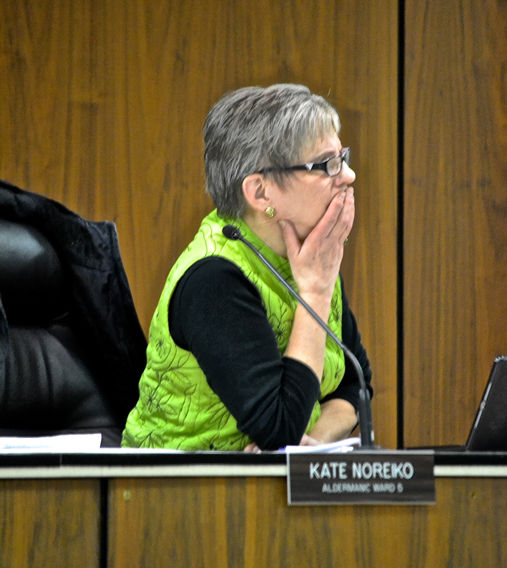 DeKALB | City council approved a third DeKalb bar-liquor video gaming license before continuing to discuss possible restrictions on future issuance of such licenses.
The resolution, which was passed during a Monday city council meeting, approved the license for Lucky Poker, 3260 Sycamore Road. The facility is owned by CL Quick Stop of Belvidere, which obtained approval for another Lucky Poker location, 1812 Sycamore Road, during an Aug. 15 city council meeting.
"Lucky Poker already has one location right next to the strip mall casino [that] council approved in August," Third Ward resident Steve Kapitan said. "I suggest turning down this proposal and revising it if the owner agrees to swap [the gaming machines] out so that owner has only the one up on North Sycamore Road. [Then] we don't have two [gaming locations] right next to each other."
After hearing Kapitan's remarks, the council approved the license resolution 6-1. First Ward Alderman David Jacobson recused himself from council for this vote because of a conflict of interest but spoke about the next item as a citizen.
The council discussed a moratorium, which will temporarily prohibit the issuance of more video gaming licenses. City Attorney Dean Frieders said this would allow the council to make more specific regulations concerning future licenses.
Jacobson identified himself as a commercial business owner with a business that may seek approval for the use of video gaming terminals. He said that council should put a definitive expiration date on the moratorium.
"The reality that it is a low-cost build out or a low-cost operation is in most cases tacitly false," Jacobson said. "The reality is most of these operators are multi-tenant locations that are filling commercial space in DeKalb."
City Manager Anne Marie Gaura recommended that if approved, the expiration for the moratorium be no sooner than six months from the current date. Multiple aldermen agreed that an expiration should be put on the moratorium. Sixth Ward Alderman David Baker said the expiration should be set before the spring city council election.
"I, for one, would like for the seated council to make this decision," Baker said. "If we get too close to the election time, it's [going to] be real easy for people to think 'we'll let the people coming into council decide this.' Unless we get going, [this issue] is just going to get kicked down the road."
A 5-2 vote set the moratorium in place until March 13. Council can lift the moratorium anytime sooner if they see fit, Frieders said.
City council plans to discuss regulations on gaming facilities in the DeKalb area specifying items such as the distance between two facilities and the maximum number of gaming terminals allowed per business in preparation for the lift on the moratorium.
"What we want to do with the moratorium is to avoid a rash of new video gaming applications while a study is being made," Mayor John Rey said. "[We need] to give staff the opportunity to discuss the matter at public meetings, to provide an opportunity for additional public input [on] the issues. Then [we need] to frame the feedback that we're hearing and pose the criteria that council wants to see in a video gaming local ordinance that may be more specific than what we have on the books today."