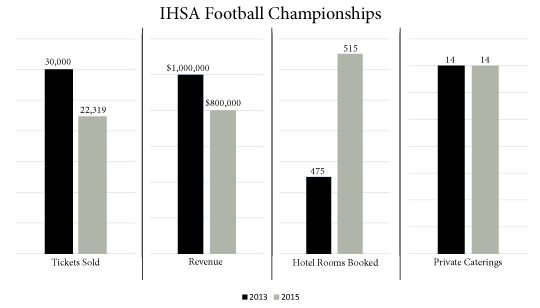 By hosting the Illinois High School Association football state championships, $800,000 has been pumped into DeKalb County's economy, $200,000 less than what was projected.
The IHSA football championships, played on Nov. 27 and 28, consisted of the top 16 teams in the state battling for eight class championships on the turf of Huskie Stadium. The event was hosted by the DeKalb County Convention and Visitors Bureau, according to the IHSA Destination DeKalb website.
"We feel confident that the economic impact from the weekend was at least $800,000 based on the data we gathered and estimates that the Illinois Office of Tourism has provided to help gauge the economic impact of sporting events," said Debbie Armstrong, executive director of the DeKalb County Convention and Visitors Bureau. "That includes indirect and direct spending on hotels, food, gas, facility rental, tent suppliers, catering and other services provided by people taking part in or attending the event."
Ticket sales, for the weekend, were down to 22,319 from the record breaking 30,000 in 2013, most likely due to the weather on Nov. 28, said NIU spokesperson Brad Hoey.
Also contributing to the decrease in ticket sales from 2013, was the decrease in the participation of schools near DeKalb including Batavia High School, who lost in the 7A quarterfinals, Armstrong said.
"When Batavia came in and when they came out we had traffic jams not only on the streets, but we had people jams throughout the Spirit Zone because they brought a lot of people," Armstrong said.
The Spirit Zone featured a tent for each individual school to host tailgate parties before and after the game, according to the IHSA Destination DeKalb website.
Although ticket sales were down, revenue remains consistent with 2013 because of increased promotions in restaurants and grocery stores, and hotels seeing a boost in room bookings with a total of 515 in the DeKalb County area compared to 475 in 2013, Armstrong said.
DeKalb also saw increased exposure with 262 million media impressions and Sports Illustrated coverage due to the first Chicago school playing in a state championship, Armstrong said.
"We did a lot of the same things because they worked, we went out and spoke to service clubs, we spoke to booster clubs, we have the IHSA Destination Dekalb website and a Facebook page, we promoted at all sorts of events leading up," Armstrong said. "We did a lot of the same things and just branched out and started earlier."
DeKalb County Convention and Visitors Bureau has started looking to 2017, when DeKalb will host next, and hopes to improve by beginning promoting sooner, improving transportation, relocating the tailgating area closer to the stadium and investing in straw for wet weather, Armstrong said.
"An event like this is an amazing recruitment opportunity for [NIU], because we have so many generations there," Armstrong said. "We have everybody from 16 different high schools from all across Illinois and we have grandmas and grandpas, aunt and uncles, mom and dads, who get to see out first class facilities. It's an excellent opportunity for [NIU] to showcase what we have here."