Baker's fall midterm earns a mixed grade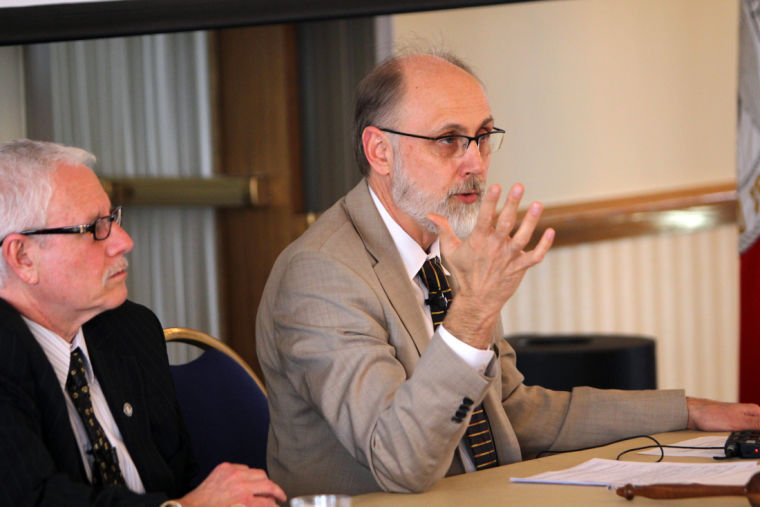 NIU President Doug Baker has focused on revitalizing the campus through the Master Plan Thesis, but the results have been mixed: Total enrollment has continued to drop and projects are behind schedule, but NIU has seen gains in retention and international student enrollment while completing portions of the Bold Ideas plan.
That isn't a great place to be midway through the semester.
The Editorial Board plans to review NIU's semester come December; until then, the board has three key areas for Baker's administration to work on.
Students
The Editorial Board has called on NIU to focus on transfer and commuter students, and in this regard the university has stepped up.
Transfer students can now use NIU's reverse transfer agreements with the area's community colleges to earn associate's degrees with credit from NIU. Baker has signed six of these agreements since January, showing a new focus on transfers.
Transfers and commuters are the bread and butter of NIU's enrollment, and keeping them happy is necessary to the university's future. NIU will need to continue to cater to them through improved parking, scholarships and temporary housing options for when they have to stay late, among other things.
NIU must also focus on enhancing the campus community to retain students. The university raised freshmen retention from 66 percent in fall 2013 to 71 percent this semester.
This means the university must host events that create an experience students think they can only get at NIU. NIU has failed in that respect: A Second City show Oct. 3 was the only entertainment event the Convocation Center will hold this semester focused on a college-aged crowd, and Homecoming featured many of the same old events.
Other projects to create a community students will want to return to — Food Truck Fridays, having more kiosks and stands along Lucinda Avenue — have not materialized.
Bold Ideas
Too many of NIU's Master Plan Thesis and Bold Ideas goals don't appear to be happening with any sort of speed.
One example: Douglas Hall's deconstruction, the first step in extending Lucinda Avenue, is off schedule, which has pushed back the whole project. The extension was to be completed by mid-November; however, it's now planned for June.
Changing the campus' appearance has its benefits — it will make NIU more attractive to prospective and returning students, as well as alumni — but students want there to be an immediate focus on making their lives easier.
The Huskie Shuffle, wherein students are sent across campus again and again while looking for help, must be eliminated by creating a hub for students in the Holmes Student Center; parking — or ways to get to parking at the Convocation Center — must be added; and there must be more large events so community members can mingle.
Finally, Baker's administration must release an overarching plan for the university with set goals and a timeline for meeting these goals.
Communiversity
NIU's relationship with its neighbors must be improved.
NIU and DeKalb's bond has been strengthened the last few years: Baker and Mayor John Rey have touted their friendship, and local leaders help at Move-in Day and regularly appear at campus events. The campus' Communiversity Gardens have also been a hit, making it easy for students to participate in the DeKalb County Community Gardens project and give back to the community by donating produce.
Things aren't quite so rosy between locals who fear NIU's ambitious construction projects will mean their historical communities will be changed against their wishes. Residents in the Ellwood and Hillcrest neighborhoods pushed back against plans that would affect their neighborhoods in the spring, saying NIU didn't consult them.
Baker met with locals in the spring, but more forums must be held to ensure locals have their voices heard. DeKalb and NIU are too thoroughly linked for university administrators to ignore its neighbors.