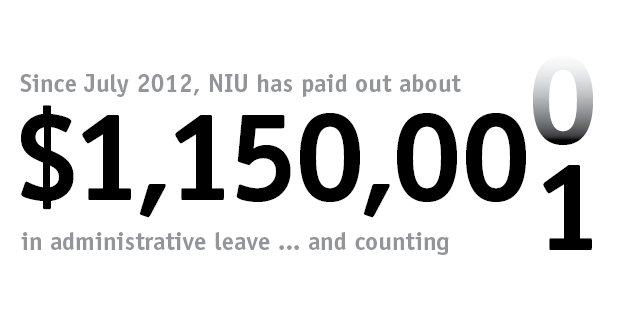 NIU could do with more transparency if it wishes to meet President Doug Baker's goal of providing ethically inspired leadership.
Baker's administration has made strides in transparency by announcing personnel changes among the president's cabinet and providing more insight into its budget for the community. But, the university needs to provide more information on paid leave to students, faculty and staff.
An NIU response to a Northern Star Freedom of Information Act request showed 84 employees have been placed on paid leave at some point since July 2012 with seven employees still on leave. NIU has paid out about $1.15 million to those 84 employees during their absences.
Yet, only a handful of those employees were ever announced as being on leave.
NIU spokesman Paul Palian said the decision to announce an employee is on administrative leave is made on a case-by-case basis, which is reasonable: The community doesn't necessarily need to know if an employee is taking a short paid absence to deal with a medical or personal issue. A blanket statement of "release everything" or "release nothing" would either potentially invade employee privacy or hurt the community and its trust in NIU.
But, the community does need to know more than is being released now.
Top administrators like Kathy Buettner, former vice president of University Relations, were put on leave without so much as a peep — much less a news release — from the university. Buettner was placed on leave May 2 and has been paid more than $67,000 since then. Her successor, Harlan Teller, interim vice president of Marketing and Communications, has also collected a salary during that time.
There's nothing wrong with Buettner or another employee being on paid leave, just as there's nothing wrong with Teller collecting a salary for his work. What's wrong is NIU not keeping the community updated on its very costly personnel — employee salaries take up about 70 percent of NIU's budget. The silence needs to change.
It wouldn't be unprecedented for NIU to announce when employees are placed on paid leave. In November 2012, NIU Today issued a news release announcing former NIU Police Chief Don Grady had been placed on leave, reading in part: "Grady has been placed on administrative leave pending finalization of charges and disciplinary actions under the terms and conditions of his employment as well as university policies."
A judge had found Grady's department had committed "a purposeful hiding of information" by not giving two witness statements to prosecutors in a rape case. The university reacted to the potential misdeed transparently, helping the community feel informed and maintaining its trust in NIU.
Similarly, a Physical Plant employee was put on paid leave over the summer when it was found campus water hadn't received a required quality test for two years. NIU used a news release to inform its community the employee was on leave.
When top earners — directors, vice presidents and other administrators — are placed on leave, the community should be informed through a news release. Otherwise, the university should use an online database to show each department how many campus employees are on paid leave. Implementing these changes will show the community the university and its employees are dedicated to acting ethically and promoting transparency.