NIU to cut budget amid state funding concerns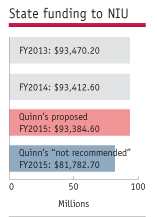 NIU will look to make up a potential $11.6 million funding cut from the state by "increas[ing] our efficiencies and our processes," said NIU President Doug Baker.
The 12.5 percent funding cut is not certain, but it would be the result if legislators don't accept the state budget Gov. Pat Quinn proposed during a Wednesday speech. Quinn recommended the continuation of an income tax increase to avoid such cuts, but the university can't wait on a final decision from the Legislature as NIU develops its FY2015 budget.
"We just don't know what's actually going to happen, but we will in a couple months," Baker said.
Quinn's proposed budget — which would include the increased income tax — would allocate NIU about $93,384,000 for FY2015; if the tax does not continue, he proposed NIU be allocated about $81,782,000, but listed that proposal as "not recommended."
Baker said NIU has a budget of more than $400 million, with its largest sources of income state funding, tuition and fees and room and board.
"So the governor has proposed this flat budget on one hand, and that seems to have some support in both Houses, which would be good for us because it's basically a flat budget," Baker said.
A high employee retirement rate — Faculty Senate President Alan Rosenbaum said NIU estimates it at 20 percent at a Wednesday Faculty Senate meeting — because of pension concerns will play a role in how the university manages its budget, as will NIU's falling enrollment. Baker said employee salaries take up about 70 percent of NIU's budget, and NIU projects a loss of 500 to 800 students in the fall from last fall's enrollment.
NIU's revenue will drop from FY2014's estimated $304.6 million to a projected $276.7 million, including state funding and falling tuition and fees and room and board, according to a presentation from interim CFO Nancy Suttenfield. Tuition is expected to fall from $125.2 million to $113.9 million, fees from $46.4 million to $45.4 million and room and board from $39.6 million to $35.7 million.
"We'd have to work through the leadership in the vice presidential areas in the academic arena. We'd have to go through some kind of prioritization process, looking at the things that are more important," Baker said. "We'd have to have dialogue with the faculty, staff and students about that, about where are the most critical pieces and where can we be more efficient, as well."
Brett Coryell, who was named NIU's first CIO and vice president for information technology in early March, will help NIU find and eliminate inefficiencies, Baker said.
"We can probably be more efficient in some of our purchasing so that if we have more coordinated purchasing — let's say around technology or, for example, laptops — maybe there are better ways to do that," Baker said.
Student Association President Jack Barry, who traveled with Baker to Springfield in the fall to discuss tax reform with legislators, said the SA will not have a "direct hand" in the budget.
" … I believe Dr. Baker's doing a pretty good job at [handling] it," Barry said. "It's unfortunate that we're going to have to do more with less … . I have faith in Dr. Baker and this administration that they're going to face the issue at hand … ."
The potential cut was not unexpected: NIU has discussed such a possibility at recent Bold Futures Workshops, where community members gather to submit and give feedback on ideas to change the university.
On March 21 a delegation from NIU was asked to describe to House and Senate appropriations committee members what would be the impact of a 12.5 percent or 20 percent budget cut.
"In our Bold Futures Workshops the university looked at the very real possibility of a budget cut," said NIU spokesman Paul Palian.
House Speaker Mike Madigan said he expects the budget issue to be resolved before the end of May, when the Legislature's spring session ends, according to the Chicago Tribune.