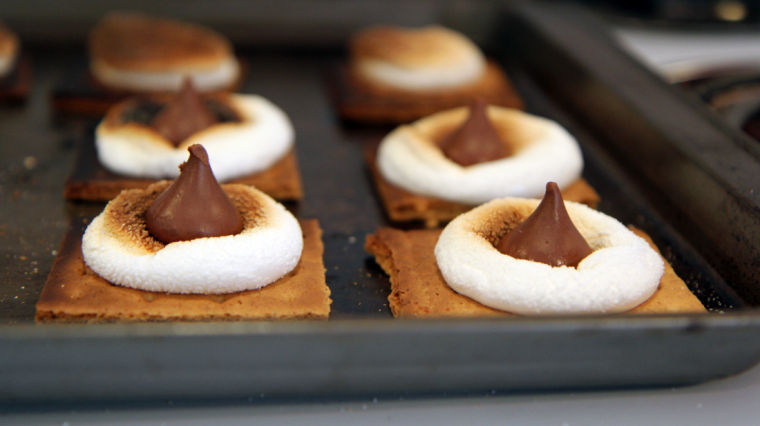 S'more bites are great for students who can't attend fall bonfires regularly.
The bite-size snacks are not only delicious but fun to make on a rainy day.
"I like this recipe because you can make several s'more bites in only a few minutes," said senior business major Laura Patrasso. "It's the easiest way to enjoy a s'more without the need of a bonfire."
You will need Hershey Kisses, marshmallows and graham crackers. Bring out a baking pan, separate the graham crackers and place them on the pan.
Cut the marshmallows in half and set one on each graham cracker.
Set the stove to broil.
Now is the perfect time to unwrap the Hershey Kisses.
After you place the baking pan in the over, set the timer for three minutes and watch the marshmallows rise and turn a golden color. The hardest part of the recipe is making sure the marshmallows don't burn while in the oven; keep your eye on them.
After the three minutes, take out the tray and place each Hershey Kiss on top of the fluffy golden marshmallows.
Take the first bite as the chocolate cools off.
"I love to cook, and this is a great way to make a s'more but with a different twist," said senior hospitality major Lyndsey Wydra. "It's a summer food that you can make where and whenever you want."
If your bite-size s'mores get cold after you've made them, all you have to do is pop them in the microwave for 20 seconds to heat them up. Enjoy these fun, bite-sized desserts.