NIU professors react to DOMA and Prop 8 cases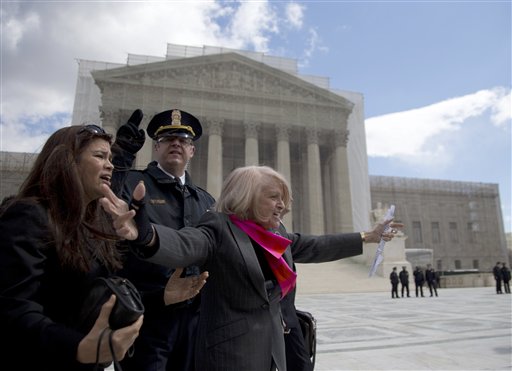 The Defense of Marraige Act will likely be struck down and Proposition 8 will be dismissed by the Supreme Court, according to Artemus Ward, political science professor and Supreme Court expert.
The Supreme Court heard arguments on two cases last week that could change how marriage is defined and how marriage benefits are administered. Hollingsworth v. Perry called into question California's Proposition 8, which was passed in 2008 and defined marriage as a union between one man and one woman.
A gay couple and a lesbian couple sued when they could not get marriage licenses due to Prop 8. When state officials refused to defend the measure, then-California State Senator Dennis Hollingsworth stepped in to do so on behalf of protectmarriage.com. Ward said the case eventually reached the Supreme Court, which questioned whether or not the defendants had standing to argue on behalf of California last week.
"If they were to strike down a state law and therefore grant standing to somebody else defending the law, citizens or state interested parties," Ward said. "Not only a precedent for gay marriage, but a precedent for standing, a precedent for jurisdiction that says, 'If you don't like a law that's on the books in a state, certainly a referenda, or an initiative, and you want to go ahead and challenge it in court as a citizen of that state or some interested party you can do that and you have standing and the Supreme Court will hear your challenge.'"
Ward said a decision like that would open the floodgates to more litigation because states would no longer decide what could be litigated, which is why he thinks it will be dismissed on some sort of technicality. He said the Court has never struck down a state law when the state wouldn't defend it.
The other case heard by the Supreme Court was United States v. Windsor which calls into question the 1996 Defense of Marriage Act (DOMA), a federal law which defines marriage as a union between one man and one woman.
Michael Theodore, SA Senator and treasurer for Prism, an LGBT education group, disagrees with DOMA and hopes that it won't be law for much longer.
"It [DOMA] violates the right of equal protection of the law under the fifth amendment," Theodore said. "I don't think the federal government should have defined marriage at all, as they don't have jurisdiction in such matters. But the federal government decided to be involved with marriage and is now offering several benefits and protection for married couples. If they continue to offer those benefits, they'll have to do so equally, regardless of sexual orientation."
Edith Windsor, of United States. v. Windsor, and Thea Spyer were married in Canada in 2007. The marriage was recognized by the state of New York, but not by the federal government because of DOMA. When Spyer died in 2009 and left her estate to Windsor the government slapped her with a $363,000 tax bill, a bill that wouldn't have existed if their marriage had been recognized because Windsor would have received a marital exemption.
"It's never too soon to fight against injustice," Theodore said. "I don't think we need to wait for popular opinion to allow equality under the law."
DOMA was enacted in 1996 in response to the burgeoning gay rights movement and the political pressure it was placing on Washington.
"It was purely political," Ward said. "This was a time when the gay rights movement was starting to gain some victories at the state level and there was momentum happening. The tide seemed to be shifting in favor of gay rights in a lot of circles in America. DOMA was a way for legislators, politicians in the federal government to weigh in on the issue and take a stand on the issue and say that they were against it."
Ward said back then everybody knew the gay rights movement would lead to same-sex marriage. Much like in the Prop 8 case, President Barack Obama and Attorney General Eric Holder declined to defend DOMA in February 2011.
Supreme Court Justice Samuel Alito also raised the question of timeliness during the arguments last week, saying gay marriage was "newer than cell phones or the Internet," and that it had only existed anywhere in the world since 2000. Alito asked how the court could rule on an issue still in its infancy. According to Pew Research Center polls, more Americans now favor same-sex marriage than opposite it.
"We've done research in political science on this question, not only about social movements and if they move to quickly, but specifically we've done research on the gay rights movement," Ward said. "Whenever gay rights movement has gotten victories–let's say in court cases like Lawrence v. Texas or Romer v. Evans, big supreme court decisions in favor of gay rights–has there been a backlash, has it spurred the anti-gay rights movement to mobilize and make it harder for gays and lesbians to gain favored policies and court decisions? Yes, there is a short term backlash.
"If there's a favorable gay rights decision there will be a small backlash in terms of public opinion or public policy, but ultimately over the long-term, five, 10, 20 years it will not slow the movement and so the backlash thesis is not true. It has not been true for gay rights."
Anthony Osborne, junior political science major, thought the political views of the court and the ambiguity of the document they are charged with upholding meant DOMA would be upheld.
"There's nothing in the Constitution that will give them one true answer; each justice is going to interpret the Constitution in their own way," Osborne said. "And from the way it appears, it's a conservative court and I don't think they'll strike it [DOMA] down."
Ward said that the votes had been cast last week and the decision had been made, but the justices will take their time in writing their opinions and the official announcement would be made before the end of June.