Gymnastics drops final meets of the regular season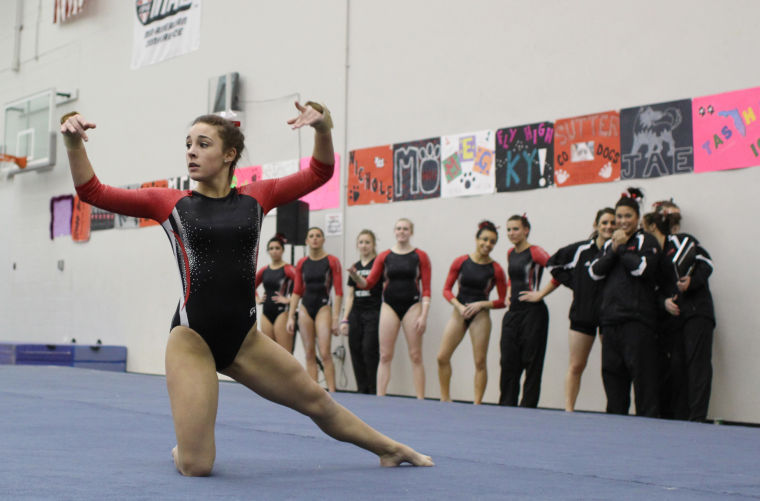 Matt Hopkinson
March 17, 2013
The women's gymnastics team finished its regular season on a lower note than anticipated, dropping its final two meets.
The Huskies (4-6, 2-4 MAC) traveled to Western Michigan on March 10 and were one event away from putting together a status quo score in the 194 range when a usually strong beam squad struggled to hit.
Only two gymnasts hit their routines on beam as NIU fell 194.825-193.675, and the team posted a 47.200. Despite that struggle, NIU managed season-best scores on vault and bars in that event, with 48.750 and 48.925, respectively.
Despite the two season-high scores and a strong 48.800 on floor, the Huskies' mishap on beam ultimately sealed their fate against Western Michigan. The Broncos had a strong performance with 49.025 on vault and bar and a 49.050 on floor.
Those scores were needed for the Broncos as their beam struggled as well, scoring a 47.725.
"It was a bad day on beam for us, which is frustrating because we had a great meet going," said NIU head coach Sam Morreale in a news release. "Prior to beam, we were hitting and everything was going well, then the wheels fell off and we couldn't right the ship. It was not a normal beam day for us, it's definitely an aberration."
Saturday, NIU closed its regular season out amid high competition and a pressure-filled meet. The Huskies competed in the State of Illinois Classic against a No. 17 nationally ranked Illinois (4-6), and two talented squads in Illinois State (3-7) and UIC (3-7).
NIU finished fourth of the four teams, with its overall team score of 192.675 bogged down again by a 47.075 on beam, despite only counting one fall, compared to counting three at Western Michigan but receiving 47.200 on that occasion.
The Huskies posted their highest score on bars with a 48.650, in addition to scoring a 48.625 on vault and an uncharacteristically 48.325 on floor.
"The great thing is we held together," Morreale said in a news release. "I'm proud of the team for how they responded. We were over-excited on floor exercise, but I want us to be aggressive so I can accept those types of mistakes."
The highest score for NIU came from sophomore Amanda Stepp as she posted a 9.850 on vault to set a career-high and tied for second for the meet.
The Huskies' competition proved to be tough, as Illinois took the meet with a 195.700, highlighted by senior Alina Weinstein's perfect 10 on vault; she became the second gymnast in her school's history to score a 10.
Illinois State trailed in second by posting a 194.075 and host school UIC pulling in third with a 193.375.
The Huskies will look to take what they can from these last two meets and go into MAC championship action.
"We counted one miss, and that's what we need to take from today going into the MAC Championships next week." Morreale said in a news release.