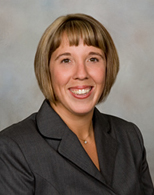 According to her campaign website, www.grocefordekalb.com, mayoral candidate Jennifer Groce works as a research associate in community and economic development with NIU's Center for Governmental Studies. Groce was previously involved with Re:New DeKalb's downtown renovation efforts. Groce attained a bachelor's degree in political science and a master's certificate in public management in regional economic development leadership from NIU.
Groce said there are five areas she would focus on as mayor of DeKalb.
"The first major change I would make would be to have a strengthened collaboration between the city of DeKalb and NIU in making strategic planning and economic development that will benefit both the city and the university," Groce said. "The second change is to be proactive in safety and security efforts on an ongoing basis."
Groce said the current efforts being made to improve the city's finances should continue.
"[The City Council] made meaningful cuts in expenses and looked for ways to be creative in financing the city," Groce said. "They need to keep on the efforts they've made to enhance and improve the financial condition of the city itself."
Groce said she is focused on creating a strengthened community over the next four years. She wants to see a stronger community with an improved relationship with NIU, as well as enhanced economic development.
Groce said her experience with various departments in the city would be an asset to the leader of the City Council.
"I have worked directly with nearly every department at the city of DeKalb over the last 10 years," Groce said. "The work I did as director at Re:New DeKalb allowed me the opportunity to work in various projects with economic development. I also worked with numerous municipalities in our area. That knowledge and first-hand experience has prepared me to know what assets the city has and what it takes to run the city.