Equality in the military is most important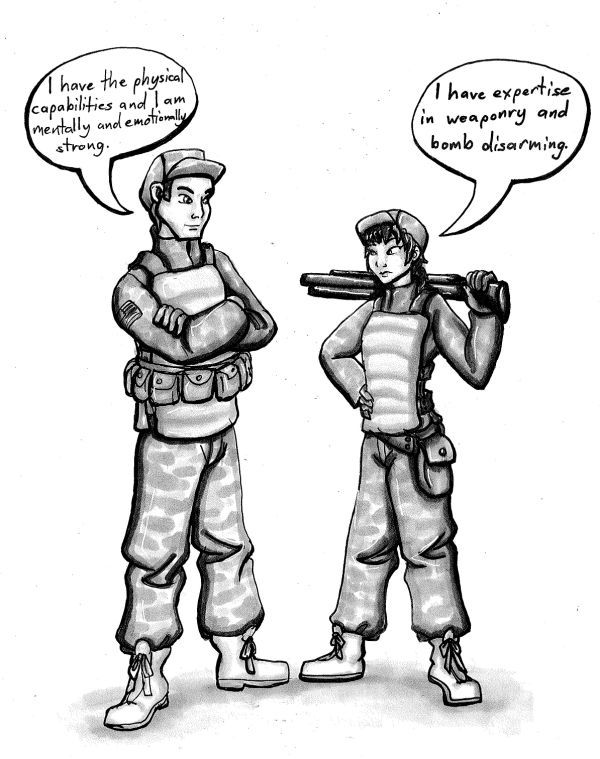 Cody Laplante
February 5, 2013
There are women in pretty much every position you can think of.
There are women doctors, lawyers, firefighters and police officers. Many of us do not judge a female's capabilities in any of these professions. However, when the Pentagon makes policy to allow women in combat situations, all of a sudden controversy swarms the nation.
Now, I admit the only combat I have seen is laser tag, paintball and a water fight in my backyard. However, any lack of understanding I possess can be compensated by my objectivity on the subject.
The clear point is that our society deems all people equal; however, when it comes to women serving our country, many endorse an opinion that can only be called unequal.
Now, many may argue with credible evidence that women simply are not as physically strong as men. However, if women are held to the same physical standards as men, my question is, "What is the problem?"
According to a blog for the Wall Street Journal, 66 percent of the public supports the decision to allow women to serve in units that face combat.
Senior biology major Jermica McClain is a part of that population.
"If they [women] want to join the Army then they should be able to do that," McClain said.
Similarly, when asked if women should be able to serve in combat, junior geography major Angelica Orozco-Rodriguez said, "Yeah, why not?"
Well, that's the question, isn't it? Why not?
The only answer is that one-third of Americans are still not ready to see a woman with a gun on the front lines.
However, the fact that everyone isn't ready is irrelevant. The issue here is whether Americans still value equal rights.
If you do, I'll simply point you in a direction of a quote said by Jurnee Smollett-Bell in the movie The Great Debaters:
"The time for equality is always, is always right now."