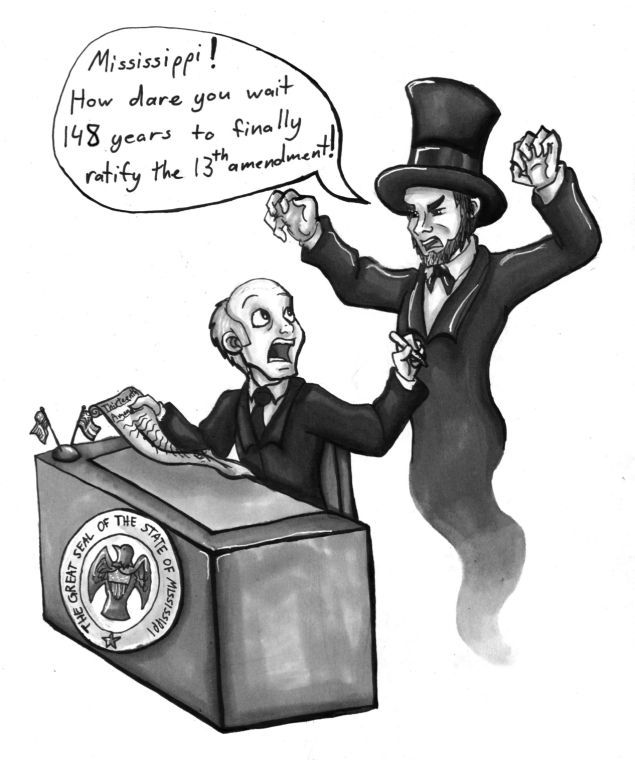 I'm not worried about having bad days anymore.
Most of the issues I face daily are a result of my bad memory. Whether I forget to turn in an assignment for a class, lose my cellphone or just can't remember what my student email password is, I'll never feel as embarrassed as I would if I was working for the state of Mississippi.
Usually, when I forget things, my memory kicks back in after about 15 minutes or so. But Mississippi has set the all-time record for having the worst memory ever at 148 years of forgetting to record the official ratification of the 13th Amendment to the U.S. Constitution. If you're unfamiliar with the Constitution, the passing of the 13th Amendment was kind of a really big deal in American history. Evidently, it was all about banning that whole "slavery" thing people were so heated over. Woops.
The events that led to finding out Mississippi had yet to ratify the amendment had all started when Steven Spielberg's long-anticipated film, "Lincoln," hit theaters in November 2012. Ranjan Batra, an associate professor at the University of Mississippi Medical Center, went to see the tale of Honest Abe.
According to an article from the LA Times, Batra became interested in what happened after the 13th Amendment was ratified. Batra started digging and found an interesting footnote on a U.S. Constitution website.
The footnote read "Mississippi ratified the amendment in 1995, but because the state never officially notified the U.S. archivist, the ratification is not official."
After Batra told his co-worker Ken Sullivan, Sullivan reported it to state officials.
I can imagine a few Mississippi politicians feeling their stomachs plummet and eyes bulge out of their sockets the moment they realized what was going on. Now if I ever have a bad day of spacing out, I won't feel nearly as bad.
Brian Troutman, junior political science major, said he wasn't very surprised at Mississippi's hiccup.
"Certain parts of the country aren't as progressive on race as we are in Illinois," Troutman said. "While I realize it's a symbolic gesture, it's a great step forward."
That's an awkward amendment to forget about, considering race is one of the most controversial issues in America to this day. However, I have to admit I found this pretty funny. After years of people finally coming around to the idea that all people are equal, there's a clerical error in the system? That's as ironic as it can possibly get, and nobody enjoys irony as much as I do.
I think that's just hilarious. I mean, just think about how awkward that phone call must have been. I can't imagine being the one to let everyone know what happened.
Finally, on Feb. 7, Mississippi officially ratified the 13th Amendment.
So even though I'm one of the most scatterbrained people I know, I guess I'll never be as forgetful as Mississippi has proven to be this week.