Coach's Corner: Christina Sutcliffe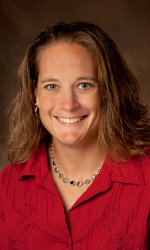 Softball coach Christina Sutcliffe is not only in her first season as a head coach in the Huskies program, but in her first season as a head coach altogether. Though she may be unfamiliar with the DeKalb area, she is knowledgeable on the game of softball. Sutcliffe has prior coaching experience as well as firsthand playing experience. The Northern Star sat down with the first year head coach to find out more about her background.
Northern Star: How long have you been involved with softball?
Christina Sutcliffe: I have actually been coaching for 12 years and have been involved with softball ever since I was 12 years old.
NS: What were you doing before you received the coaching position at Northern?
CS: I was the assistant coach at Miami University in Ohio.
NS: How are you adjusting to coaching so far at NIU?
CS: I'm adjusting really well. The kids are accepting me into their culture. The administration has been super supportive. It is very similar from where I came from before with the "small town" feel.
NS: Could you see yourself in any other career besides coaching?
CS: My degree is in education and if I wasn't coaching I would probably be a high school math teacher.
NS: Was softball always your passion?
CS: Softball has always been my passion. In high school I played volleyball, basketball and football. But I knew all along that softball was a part of who I was.
NS: What led you to become a coach?
CS: I wanted to get back into the sport of softball. It has always been such a big party of my life and I wanted to give back to it. Knowing that I was done playing, I still wanted to be competitively involved. I then understood that coaching was the way to do it.