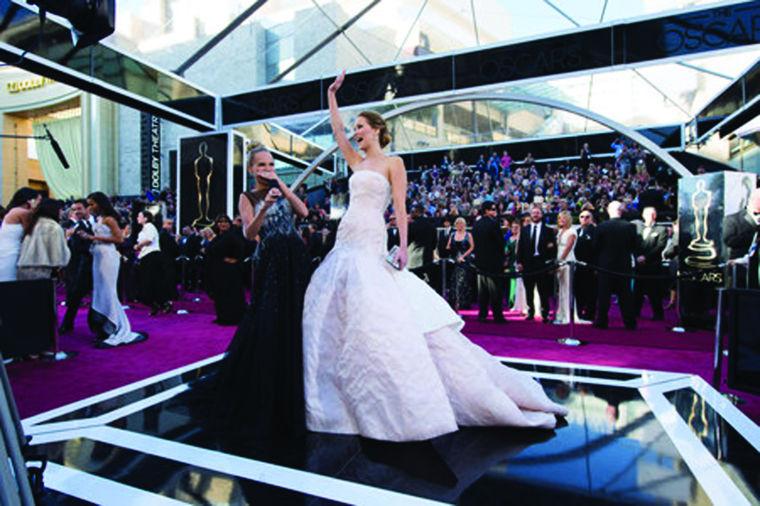 The Oscars were filled with inspirational red carpet fashion moments.
According to the fashion panel from "Live! with Kelly and Michael," the Oscars were all about shimmer and shine for women and beards and bow ties for men. I selected the top best-dressed women of the night:
The classic Hollywood glamour look was pulled off by Jessica Chastain in Armani Prive. Her dress was embroidered with beads and sequins that did not overwhelm the overall look. The gold tone of the dress worked wonders with her skin, red lips and red hair. She had a sweetheart neckline on her gown that showed off her curves with a comfortable fit.
Necklines can really make a difference for a gown. Naomi Watts showed us how it's done with her Giorgio Armani gown. Her shiny silver dress grabbed enough attention already, but the asymmetrical open neckline made it truly unique. Watts showed confidence in her dress by showing off her toned arms.
Kerry Washington looked absolutely stunning on the red carpet with her coral Miu Miu dress. This was also one of the best-dressed picks for fashion blogger Jena Gambaccini of ChiCityFashion.com. The beaded bodice and satin skirt were separated with a built-in belt and the added detail of a bow. Who says you can't wear red on the red carpet?
Purple was popular on the carpet. Jennifer Garner looked phenomenal in her strapless Gucci gown. The front of her gown was simple and elegant, while her back was designed with a big bow and ruffles all the way down her dress. It made her look more playful yet still sophisticated.
Halle Berry's black and gold Versace gown embraced her body with sparkling vertical and horizontal stripes. The long-sleeve, slim gown had a deep V-neck, but wasn't too revealing. Berry accessorized the look with teardrop earrings. She looked beautiful and comfortable with her body.
Jennifer Lawrence stole the show. Her beautiful white Dior gown was young and fresh. The bodice and full skirt were hard to miss on the red carpet. She accessorized the look with a long diamond necklace falling down her back. Lawrence was a champ for getting up after her fall as she walked up to receive her Oscar and was able and making fun of herself with the audience. Now that embraces confidence for a gorgeous and glamorous woman that the world should fall in love with. Her dress was my favorite, and according to Fashion Police's Joan Rivers, the best dressed pick of the Oscars. She proved that even if you fall, you get back up in life and laugh at the little things.
One of the hosts of the red carpet, Kristin Chenoweth, said that costumes and film influenced the fashion seen on the red carpet this year. I hope you felt inspired by the red carpet fashion, and remember: Fashion is not about how much you spend, but how you wear it.