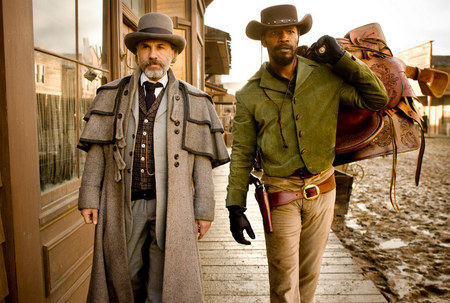 Andrew Cooper
The 85th Academy Awards will take place on Feb. 24. As per usual, a slew of films have earned nominations–who has time to watch every one? In this series, columnist Sarah Contreras will wade through the river of films and tell you what is worth seeing and what simply isn't worth your time.
Break out the popcorn or save your money? This week's reviewed films are Kathryn Bigelow's "Zero Dark Thirty" and Quentin Tarantino's "Django Unchained."
"Zero Dark Thirty"
Category: Best Picture
Watch It: Watch It
Perhaps the most controversial of the nine films nominated for Best Picture, "Zero Dark Thirty" commands attention from film buffs and political junkies alike.
Maya, played to perfection by Jessica Chastain, is a CIA agent who spends a decade discerning the whereabouts of Osama bin Laden. Obsessive and perceptive, Maya perseveres through waves of skepticism, the loss of colleagues and multiple attempts on her own life as she follows lead after lead to bin Laden's location.
Though the subject matter is the main draw, "Zero Dark Thirty" is also beautifully shot and scored. The Navy SEAL raid on Bin Laden's compound in Pakistan is shown mostly in the green glow of night-vision cameras, amping up the anxiety and danger of the situation.
The death scenes are both horrifying and refreshingly real. There are no Django-style blood spurts here–just honest-to-God death.
The controversy surrounding "Zero Dark Thirty's" torture scenes is, in my opinion, distracting. Is the film pro-torture? I honestly can't say.
But what can be said is that Bigelow does not shy away from a simple truth: War is hellish, and sometimes the means to justice are bleak. But who are we to say what we would do when shouldering an America-sized burden?
"Zero Dark Thirty" offers viewers a chance to feel out the positives and negatives of one of the century's monumental events.
"Django Unchained"
Category: Best Actor In a Supporting Role–Christoph Waltz
Watch It: Watch It
Quentin Tarantino set a high bar with 2009's brilliant, violent "Inglourious Basterds." Unsurprisingly, "Django Unchained" shines with the same creative wattage.
When a bounty hunter buys Django (Jamie Foxx) out of slavery in order to help track down a criminal, he ends up agreeing to help Django find and free his wife. Gun-slinging and a mix of hilarious and uncomfortable encounters ensue.
Ku Klux Klan members argue over the size of the eyeholes in their hoods. Mandingo fighters savage each other for their lives and Django dispatches slavers dressed in the traditional garb of the men whose ancestors enslaved his own.
Foxx is all kinds of awesome as the revenge-bent Django, and Leonardo DiCaprio is in top form as the charming yet sadistic plantation owner Calvin Candie. However, Waltz, who won an Academy Award for his portrayal of the brutal Hans Landa in Inglourious Basterds, truly steals the show.
Waltz is, without a doubt, deserving of his second Oscar nod; for lack of a better phrase, Waltz brings it. Intelligent, intense and profoundly sharp-witted, his King Schultz navigates the American South with a frank perception of right and wrong. As a bounty hunter, killing bad guys is good; as a human being, not doing away with bad guys is wrong.