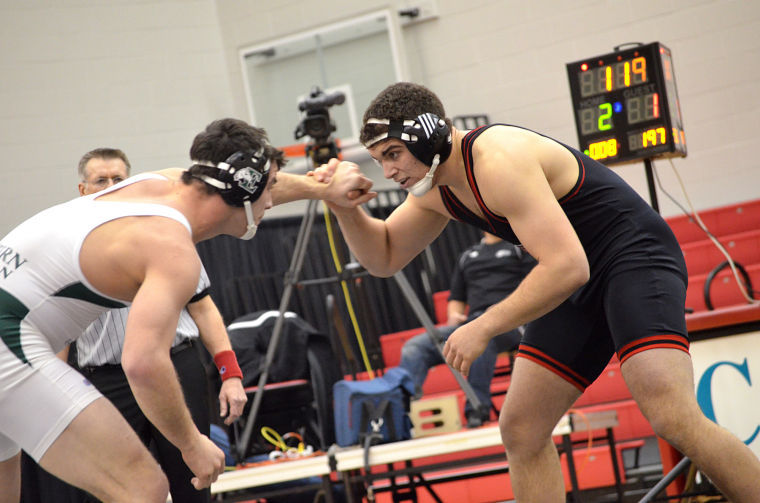 The 2012-13 season for NIU wrestling has had more twists and turns than a roller coaster at Six Flags Great America.
The Huskies (7-7, 0-5 MAC) started the year 5-0 and then lost three straight dual meets. After that, NIU won two in a row, followed by the current four-dual-match losing streak. All of the last four losses have come against MAC conference opponents.
This streaky pattern begs the question: Has anything changed in terms of what the team is doing to prepare for the meets every weekend?
Head coach Ryan Ludwig said his team is doing nothing different than they did earlier this season.
"Nothings changed, we've upped the level of competition and that's ultimately our goal," Ludwig said. "We want to wrestle the best teams in the country because that's where we believe we can be. So, you know, our guys are going out there every week and battling. We're fighting hard and we're actually wrestling with a lot of intensity right now. So I'm pretty proud of our guys."
A closer look at who NIU has faced so far this year proves Ludwig's statement prophetic.
According to InterMat's wrestling weekly college rankings, NIU has faced three teams currently ranked in the top 25. Missouri was fifth, Central Michigan was 12th and Kent State was 20th.
The Huskies' next dual meet opponent, Northwestern, ranks 18th in this week's poll. NIU will host the Wildcats on Feb. 8.
Ludwig said with such a tough schedule, something similar to the Huskies' 39-3 defeat at the hands of Missouri might happen, but his team should always be positive about things.
"You can't let yourself get discouraged; that doesn't even equal into the equation," Ludwig said. "What you do is you stay positive and get back to work and that's the name of the game in wrestling."
Redshirt junior Kevin Fanta said he feels the team has to do one thing to help them get their first conference win of the season.
"I think we just got to get tougher," Fanta said. "I think it's coming back to the mental thing. We just got to get tougher. It's a mindset."