Bulls exceed expectations in Rose's absence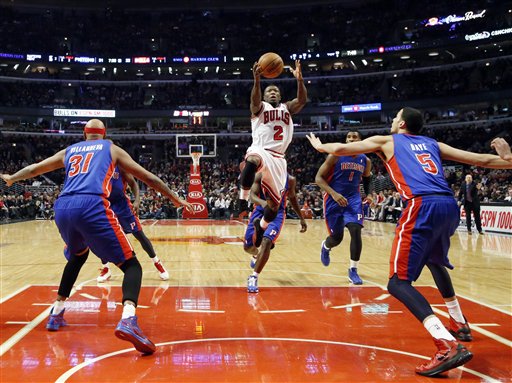 For all the talk about how bad the Bulls would be without star point guard Derrick Rose, they have exceeded peoples expectations.
Rose has not seen any action this season as he has been recovering from a knee injury he suffered in the first round of the playoffs against Philadelphia.
Knowing that Rose would be out until sometime around the all-star break, no one thought the Bulls would finish any higher than the No. 8 seed in the Eastern Conference. Some people thought they would miss the playoffs altogether.
Despite all of that, the Bulls find themselves holding the No. 5 seed in the Eastern Conference, just three games back of the Miami Heat and the No. 1 seed.
Without Rose, the Bulls have also had to deal with nagging injuries throughout the course of the season from Luol Deng, Joakim Noah and Richard Hamilton.
With the loss of these key players, the way was cleared for players like Jimmy Butler, Taj Gibson and Marco Belinelli to step up and gain valuable experience moving forward.
While the Bulls have had their ups and downs over the course of the season, having their fair share of bad losses, they have shown they can play with some of the best teams in the Eastern Conference.
They have beaten the Eastern Conference-leading Miami Heat and they have had their way with the New York Knicks, beating them three times this season.
Now that Rose has been practicing and going through full contact, his return is close. His timetable is uncertain, but there is light at the end of the tunnel.
If Rose were to return shortly after the all-star break and was able to make a strong impact down the stretch of the season, who knows what seed the Bulls could finish in the Eastern Conference.
They would have the chance to win their division over the Indiana Pacers and, depending on how strong Rose is when he comes back, make a run at the Heat for the No. 1 seed in the East.