Ke$ha brings the house down with new album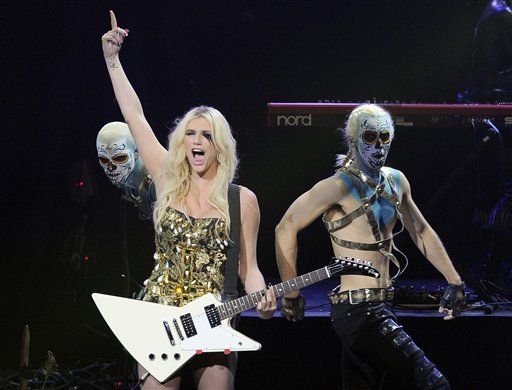 Glitter- and grease-covered pop star Ke$ha released her second full-length album, Warrior, Nov. 30.
Though not a complete divergence from her previous works (Animal and the Cannibal EP, respectively), it's obvious that Ke$ha has done at least a little growing up. And when I say "growing up," I don't mean in the way you're probably hoping for.
Ke-dollar-sign-ha hasn't composed any great works to add to the American songwriting canon, and she hasn't stopped kind-of-rapping about debauched nights on the town. However, she seems to have fully embraced the full effect of what it means to be, well, Ke$ha.
Ke$ha, with all of her hard-partying, gyrating ways, has been a dividing figure in the music industry since the day she first pulled on her "stockings ripped all up the side." Listeners either hate her, hate to love her, love her ironically or love her without explanation because they usually like music like Whiskeytown (ahem, me). Her music is the sleaziest kind of pop, seemingly put forth without any talent or effort.
But Warrior proves that sort of thinking wrong. Sure, it's sleazy; Ke$ha's signature fried digital bleeps and hair metal riffs are available in spades. But it certainly isn't effortless. It takes massive amounts of effort to trumpet lines like "Your sweet ass mullet caught my eye/Now you got me jonesing for a moustache ride" with a straight face, especially when the lyric takes place in a song that is a not even kind of a vague allusion to her ladyparts (get inside her "Gold Trans Am," gentlemen).
It takes effort to resist the urge to make an album that proves haters wrong. Ke$ha and her team of pop music wizards could have very easily released an album full of stripped down songs that show off her considerable vocal talent. Instead, they decided to bring the Ke$ha full force. This conscious decision to amp up the glitter, synth and hand-claps is borderline genius—show the music world how much you care by making music that doesn't give two licks about conformity.
And can we all agree that creating a song like Die Young takes significant talent? Die Young, the lead single off of Warrior, is the best song on the album, and quite possible Ke$ha's best song ever. It's impulsive, it's brash and it is incredibly catchy. Say what you want about the lyrical quality—it is fact that not everyone can write a song that infectious.
Perhaps the best example of Ke$ha embracing her special kind of talent/effort comes in the form of the song Crazy Kids. An anthemic tune for all the kids who have ever felt like glamorous outsiders, Crazy Kids wants nothing but for everyone to be who U R. Self-proclaimed weirdo Ke$ha knows the power she wields over her fans, and she knows how much those with insecurities need a little boost. Why not pour all of her energy into writing songs sure to whip listeners into a weirdness-embracing frenzy? Exactly. Why the hell not?
While scrolling through the comments under an online article praising Ke$ha, I came across a rather disturbing little tidbit from a commenter:
"if you like Ke$ha, you should probably go kill yourself."
No. No, I won't do that, anonymous internet commenter. I won't ignore the fact that Ke$ha's music is a rare paradox of seemingly immature lifestyle and hyper-mature self-awareness. I won't say that loving her music makes me less of a music snob, or that it discredits my taste. Instead, I will crank Warrior to full blast, and sing,
I came to start the ruckus
And ya wanna party with us
Cause we crazy m-therf-ck-rs
Four of five $'s.