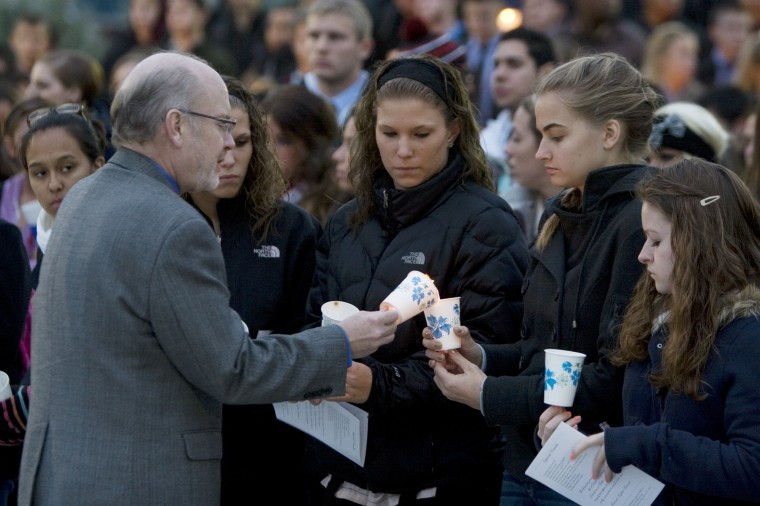 Students filed silently from the Sandburg Auditorium to the MLK Commons, church bells ringing in the distance, during the Wednesday memorial service held for David Bogenberger. They held candles to remember a Huskie lost.
The body of Bogenberger, a freshman, was found in the Pi Kappa Alpha fraternity house on Friday. The memorial was held to honor Bogenberger's memory, and several figures spoke about Bogenberger's life before those in attendance participating in a candle lighting and moment of silence.
NIU President John Peters said Bogenberger was a warm, outgoing person.
"David was an enthusiastic member of the Huskie community," Peters said. "My heart breaks for David's parents and for his siblings. I wish I could say something to relieve their sorrow. I wish I could say something to relieve their pain."
Members of the NIU student body also spoke of Bogenberger's legacy on the campus.
"I encourage all of us to remain hopeful, that through this tragedy, we may find strength," said Gina Gregolunas, vice president of the Student Association. "Keep David's memory alive by doing well to your neighbor."
Anthony Buda, president of the Interfraternity Council, said he has witnessed the NIU community band together.
"I can only imagine the stamp he would've left if he attended all four years of school," Buda said. "We must come out of this better individuals and better organizations."
As the memorial continued, several of Bogenberger's friends came to the stage. Nick Minogue, Bogenberger's friend and roommate, said David was achieving straight A's and living life to the fullest. Bogenberger and Minogue had been friends since kindergarten.
"His witty sense of humor was the best," Minogue said. "Every day he made me laugh, and thinking of him now makes me smile. Rest in peace my roommate, brother and best friend."
As Minogue and the rest of Bogenberger's friends exited the stage, Reverend Tom Acton of Immanuel Lutheran Church, 200 N. Plum Grove Road in Palatine, concluded the memorial with words of advice.
"Consider the choices you make, they not only affect you, but those around you," Acton said.
The candle lighting and moment of silence took place in the Martin Luther King Jr. Commons outside of the Holmes Student Center following Acton's statement.
Psychology major Veronica Solorio, who attended the memorial, said being fellow Huskies meant something because NIU always talks about community and moving forward together.
"I felt I should come and represent the student body," Solorio said.