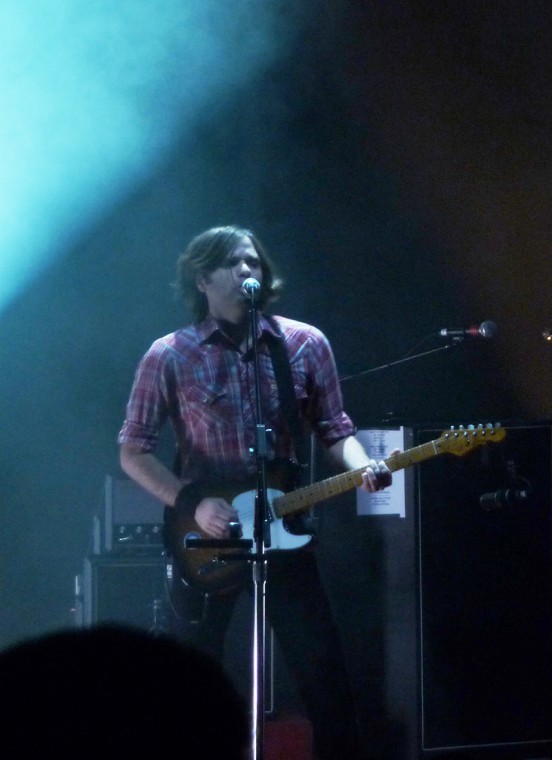 Benjamin Gibbard, of Death Cab for Cutie fame, released his first solo album today.
That's right: his first ever. Though he has released numerous works outside of Death Cab for Cutie, the most recognizable being with The Postal Service, Gibbard has never actually put out a full-length solo project. Now, drifting on Death Cab's robust success, he is ready to share his private work with the world.
The album, titled Former Lives, is a collection of songs written over the course of the past eight years. The tracks jump from style to style, from subject to subject, allowing listeners a long, hard stare into Gibbard's state of mind for the past decade. That period encompassed three Death Cab albums, a marriage, relocation from his native Seattle to Los Angeles, the high-profile dissolution of his marriage and Gibbard's decision to quit drinking and start running marathons, and the 12 terse tracks of Former Lives run the gamut of emotion and reflection.
Former Lives is a lovely, personal opus sure to enchant longtime fans and grab hold of new ones. The album in its entirety clocks in at a pithy 37 minutes in which Gibbard shows off the sharply-honed songwriting skills he has always wielded with great aplomb. His simple yet expressive lyrics, such as those featured in Lily ("Lily is a five-alarm fire that rages inside my heart/…Lily is a big brass band that fills the air with sound") are emotional without being saccharine—Gibbard's specialty.
The first track on Former Lives is a 50-second a cappella piece titled Shepherd's Bush Lullaby. By opening his album with this song, Gibbard effectively distances himself from the distinct sounds of both Death Cab and the Postal Service.
The second track, Dream Song, is an utter knockout. The portrait of a man plagued by overthinking and a serious amount of self-doubt, Dream Song floats along on piano and guitar, a melancholic two-step punctuated with airy vocals and a melody sure to burn itself into your brain.
The lead single of the album is Teardrop Windows, a song inspired by Seattle's Smith Tower. The song is catchy and rich, with its classic strum-strumminess reminiscent of early '90s alterna-country. It's a great companion to the rollicking A Hard One to Know and the slide guitar-driven Broken Yolk in Western Sky, as all three do away with modern alternative experimentation and stick to classic rock and roll tradition.
Another standout track is Gibbard's duet with singer-writer icon Aimee Mann, Bigger Than Love. Featuring lyrics like, "'Cause you were just drinking/Drinking 'til you could hardly see/Oh, how much I loved you/But I couldn't bring myself to leave," Bigger Than Love is an absolute gut-punch of a song. Invoking the intensely-felt woefulness of Gibbard's early work, the track spins the story of a couple's early love in Paris and its eventual disintegration. Gibbard's voice has always been a lovely foil to the sweetness of those of his female collaborators (see The Postal Service's Nothing Better, featuring Jenny Lewis, and Gibbard's Train Song with Leslie Feist), and Bigger Than Love is no exception.
Also worth noting is the downright sweetness of Lady Adelaide; the longing of Duncan, Where Have You Gone? and the acoustic simplicity of I'm Building a Fire. All of these sounds intertwine to create a deeply personal, steady album which will put Gibbard, finally, on all critical radars.
5/5 stars.