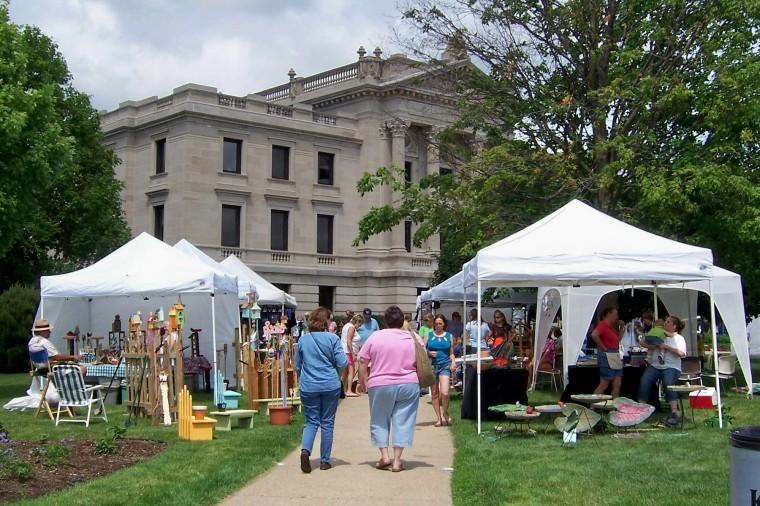 There is a league in DeKalb County. Not superheroes with a mission of justice, but artists with a mission to spread the education and appreciation of art.
Founded by Virginia Lary in 1972, the Kishwaukee Valley Art League serves artists in the DeKalb County area.
The league, "encourages the practice and appreciation of the artist in all media and educates people within the community," according to its mission statement.
To do this, the art league has set up monthly meetings for artists ready to add something to their collection of skills.
After joining three years ago, art league President Larry Bond, said he wanted to learn new things.
"The monthly meetings intrigued me," Bond said. "At the time, I needed an outlet, a place to display my art. I wanted to get my own artwork out to the public. I went to the meetings, got to know people, and little by little they got me involved in projects."
At the Art League's meetings, several artists come to demonstrate their techniques. Some of the demonstrations include water color, pastel, oil painting and acrylic painting.
These meetings are held every first Thursday of the month, except January, at the Unitarian Universalist Church, 158 North 4th St. Meetings are also open to the public and provide information on where artists can get supplies and upcoming shows.
"Our members have a lot of insight," said art league secretary Tamara Shriver, "Since Virginia Larry initiated the art meetings, we've had demonstrators at every meeting."
In addition to the meetings, the Art League hosts different types of shows. The first type is a "plain air show."
"This is where the artists paint outside," Shriver said. "We had three sessions on Ellwood and Hopkins Park. Artists took pictures and worked from a photo, or they painted right on sight."
These sessions prepare the artists for the March 16 show at the Ellwood Gallery. Shriver said the theme of this show is the area around DeKalb County or on Ellwood grounds.
The next type of show is a traveling exhibit.
"We have a rotating show where two or three artists show at one time," Shriver said. "There are a number of business locations that have space on their walls. That work is changed out every three months."
The Art League also hosts "picture shows."
"What it does is keep the artists producing a lot of new work," Shriver said. "That's why we have our plain air shows. Artists are painting on the spot and so they have to have a lot of new work to show. It's kind of an incentive, but it's fun."
These opportunities to exhibit artwork only comes to the league's members. For a yearly fee of $25 for a single membership, or $30 for family membership, artists get the opportunities to show their art and perhaps get some of it sold.
The Art League has a number of artists in different medias, and some have been in the art profession for years, Shriver said. They have artists who have retired and some who are just beginning.
However, students aren't often a part of the League. Barbara Grant, the art league's membership chairperson, said students tend to come around the summer when they aren't as busy.
"Right now we don't have any, but we'd love to have some students as members," Grant said. "The Art League is big on encouraging people to go try art. In the long run, when they retire, they'll need that time for relaxation."
Bond also said the Art League is trying to spread its mission past the borders of the DeKalb County area.
"We even have people from Rochelle," Bond said. "There's a lot of talent out there. We need to educate and expand that statewide and nationally. There's a lot of talent people just don't know about."
The Art League is currently accepting applications for its 41st Annual Northern Illinois Art Show, 10 a.m. to 5 p.m on June 2. and 10 a.m. to 4 p.m. June 3 at the DeKalb County Courthouse, 200 North Main Street in Sycamore. The deadline for submitting applications is March 15. Sixty five booth spaces will be available.