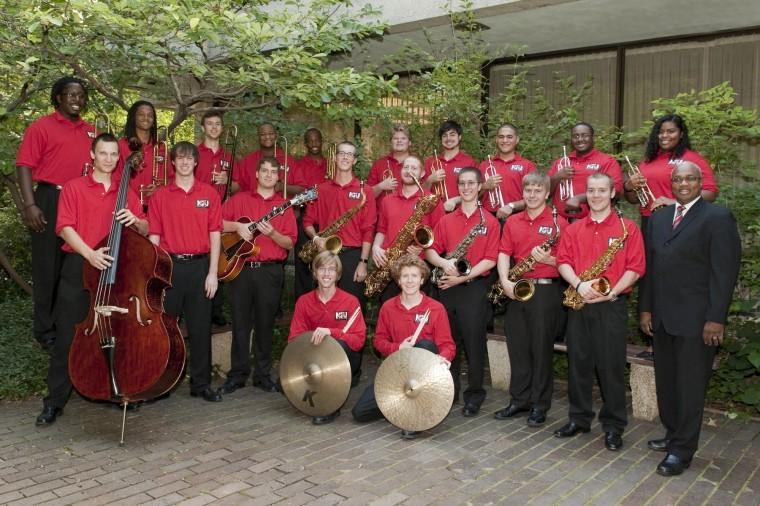 Northern Illinois University has one of the most renowned music programs in the state of Illinois. The School of Music boasts over 20 student ensembles, some of which record music and perform all over the world.
The hunt for talented musicians is always on. One way that the School of Music recruits high school students is through Jazz Day, an eight-hour event for high school jazz bands to perform and receive criticism from NIU faculty and a guest clinician, trombone player Steve Davis.
Jazz Day is Friday from 8:30 a.m. to 4:15 p.m. in the Boutell Memorial Concert Hall in the Music Building. The clinic is free and open to the public.
At most, fifteen bands perform each year. The bands are selected on a first-come, first-served basis. Jazz Day is not a competition, but a learning experience for the high school musicians, said coordinator of jazz studies Ron Carter, who will serve as a clinician at the event.
Each band's performance lasts 20 minutes and is followed by a 20-minute clinic session conducted by NIU faculty members. There are also clinics for each individual instrument, which Davis said is helpful to all the musicians.
Associate professor of jazz studies Rodrigo Villanueva has been a percussion clinician at Jazz Day for the past eight years. He said his favorite part of the event is his Percussion Master Class, which he offers to all the drummers and percussionists.
Both Davis and Villanueva agree that Jazz Day is an excellent opportunity for recruiting talented young musicians.
"I use the event to approach high school musicians and talk to them, get to know them and tell them about the great jazz program we have at NIU," Villanueva said. "I usually give them my NIU business card and I let them know that they can e-mail me if they have any questions about the stuff we covered in the jazz master class."
Villanueva said he also talks to the high school band directors about students of interest. The opportunity to come back for Jazz Combo Day and the Jazz Summer Camp is also a factor in recruitment, and he sometimes provides CDs of the jazz groups so the high school students can hear what the music program is all about.
Davis said Jazz Day also attracts musicians from other campuses so they can see what the NIU School of Music has to offer. He said a lot of them may not even be jazz studies majors, but they become interested in the program and may come to NIU to join the concert band, marching band or any other ensemble the university has to offer.