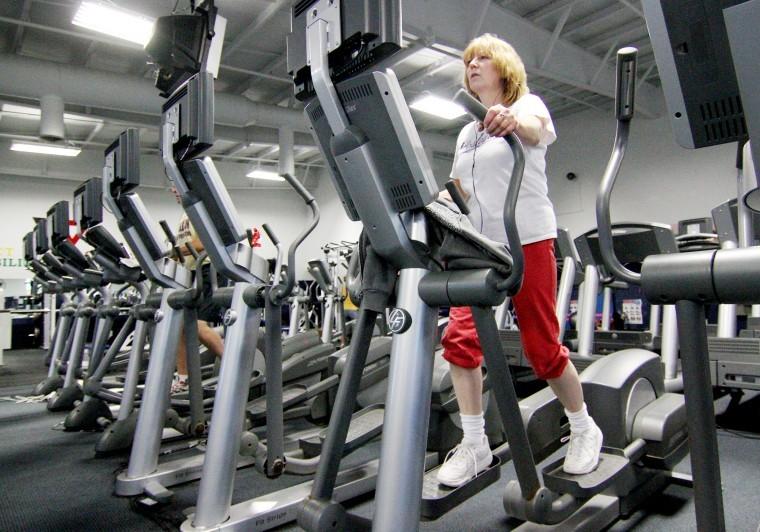 The sweet treats-filled Halloween and hefty helpings of Thanksgiving are coming up, but working off the extra weight doesn't have to be a challenge.
FitWorkz, 1690 Sycamore Road, is the largest health club in the DeKalb area, said owner Ray Binkowski.
"We offer classes, tanning, massages, weights and cardio," Binkowski said.
One of FitWorkz's most popular classes is the BODYPUMP. This class deals with strengthening, shaping and toning the body and pushing members to their limits, said Ashley Mottar, senior biology major and receptionist at FitWorkz.
Mottar took the BODYPUMP classes and said several people tend to take these classes.
"There are a wide range of people taking the classes, and they are usually full," Mottar said. "They really enjoy it and keep coming back."
Mottar said the health club started yoga classes, which also have become widely popular among members.
FitWorkz offers a special membership rate for NIU students with a valid student ID.
"[The discount] is brand new, something we just started in October," Binkowski said. "Students get unlimited classes, gym membership and tanning with free tanning upgrades if they come in before Nov. 1."
Another place to get fit is at the Harding Family's Martial Arts School, 236 Palmer Court, DeKalb. Members can learn Kajukenbo, which is a mix of five styles of martial arts: Karate, Judo, Jujitsu, Kenpo and Kung Fu.
Members are taught street self-defense styles and different techniques on how to react to situations they may encounter, said George Harding, owner of the school.
Taking classes on different forms and techniques is not the only way to get fit. At the Harding Family's Martial Arts School, Harding also takes his students to tournaments in which members can test their skills in front of judges.
DeKalb residents also have the opportunity to learn Latin dancing to get fit. At Conexión Comunidad, 637 N. Eleventh St., DeKalb, on the second and fourth Saturdays of the month, fitness instructor Cody Happ offers Zumba classes.
"Zumba is different from other fitness classes because you really feel like you're dancing, not working out," Happ said. "Zumba is an easy to follow dance fitness class that uses Latin and international music and movements that will make you sweat and smile."
Happ said she teaches these Zumba classes because it feels more like a dance party than a fitness class.
"Zumba is so wonderful because it's for everyone," Happ said. "In a typical Zumba class, I could have participants between the ages of 12 to 72. Zumba honors the fact that we are all individuals with bodies that move differently and that have different capabilities."
Happ said people come to her classes for several reasons, including wanting to lose weight or getting better health.
"I do believe, however, that the benefits go beyond the surface benefit of fitness," Happ said. "Something about Zumba transcends the fitness aspect, in my opinion. For me, something about the music, positive energy, dance and party atmosphere take Zumba to a whole different level of fitness."