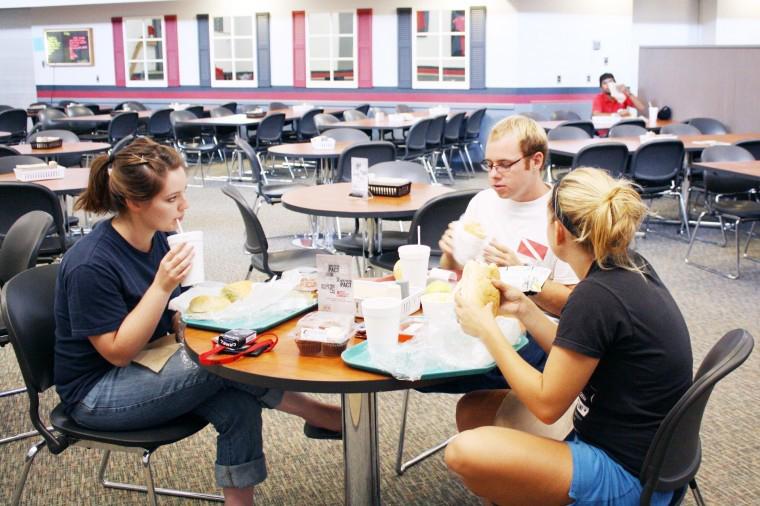 Some students at NIU have mixed feelings about dining hours in residence halls.
Though there are those who don't mind the times of available dining, others urge Housing and Dining to re-establish serving hours to be more easily accessible to all students.
When asked, many students expressed disgruntlement and claimed the biggest problems are the weekend schedules and sporadic weekday times of dining hall operations.
Some said they felt the morning hours do not offer enough time for students with classes in the late morning, and do not offer time between afternoon and night classes to eat.
Beth Schumacher , sophomore journalism major, said the hours were particularly inconvenient on Fridays and weekends, where there are no dinner options past 6:30 p.m. for students in the residence halls.
Schumacher, who is involved in color guard, said the worst times are on game days.
"We have to get up super early for games and nothing's open, so we don't eat," Schumacher said.
Not all students, however, agree with Schumacher. There are some who feel the dining halls do a great job of serving the students.
Hector Manuel Feliciano III, freshman accountancy major, said he believes there is nothing wrong with the way Housing and Dining provides food.
"I think they're fine because you're really not too far from each place," Feliciano said.
He suggests that all residence halls acquire a late night grill.
Schumacher said she is also in support of creating more options for late eaters.
"Maybe extending hours in certain dorms could help," Schumacher said. "Plus, they only have late nights in two dorms."
Michael Stang, Housing and Dining executive director, said the administration works to provide acceptable options to meet the community's needs. Stang said the residence halls have better options than in previous years.
"We used to not have service at Lincoln on the weekends," Stang said.
After several requests, Lincoln installed a weekend schedule several years ago.
Scheduling of dining hours is based on a number of things, Stang said. The times during the week when dining halls are available depend on student usage as well as information from the civil service staffing.
Stang said the two factors are combined to develop a schedule that will meet the needs of both students and workers as well as provide the broadest range of availability for students. He added that students don't only eat in their building, so they try to provide coverage in all of the residence halls on campus.
Stang said the new residence hall at the former site of Northern View will attract students to its dining hall as well.
"When we open a new dining unit, it's attractive not only for students that live in that particular complex, but other students that live in other halls," Stang said.
The new residence hall will have a Grab'n'Go and a late night grill as well as regularly scheduled dining service during the day, Stang said.