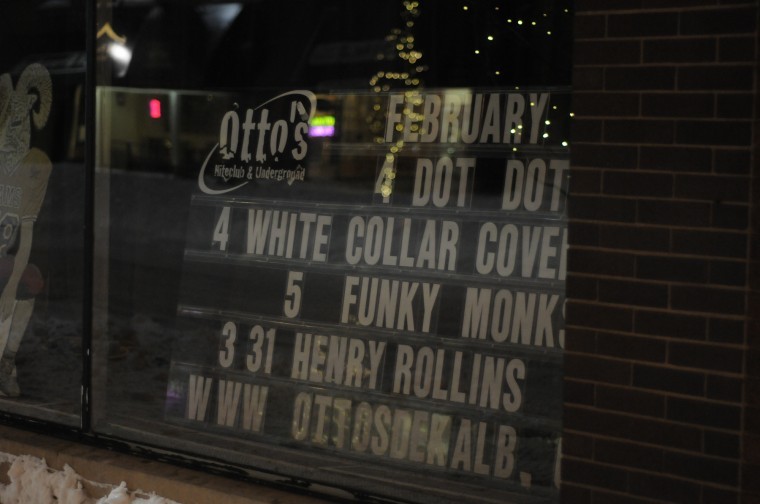 The show must go on. But the question is: Can it?
DeKalb was rocked by both live music and a massive blizzard Tuesday night and well into Wednesday morning. With inclement weather and slick, snowy roads, some venues and promoters have been hesitant to let the beat go on.
Senior visual communications major Ken Ugel was supposed to play with his band TremorTone Thursday night at Otto's, 118 E. Lincoln Highway. However, conditions have forced local promoters Kickstand Productions to reschedule the show.
"When I heard about the possibility of there being around 20 inches of snow on the ground and the temperature around five degrees on Thursday, I was very skeptical about people actually showing up to the show," Ugel said. "I wouldn't want anyone to risk their lives trying to get out to Otto's in the terrible weather. Even though the band is bummed that we aren't playing [tonight], I think it's for the best that it was canceled in favor of the safety of others."
Kickstand Productions manager John Ugolini told the Northern Star that this is only the second time one of their shows has ever been called off due to a blizzard. He said that events have been cancelled in the past due to other potentially dangerous weather conditions, but that it is rare for one of their productions to be cancelled all together due to storms.
"We keep an eye on the weather forecasts, as do the bands," Ugolini said. "Generally, neither the artist, venue or promoter wants to cancel a show. If the weather reports look bad, we begin a dialogue with the band, their management and the venue. With the exception of extreme situations, we all collectively wait until the morning of the show to discuss canceling."
Matthew Clark, another local promoter, prefers to press on in the face of the forecast.
Clark, who is the manager of the House Cafe, 263 E. Lincoln Highway, said this week's event calender will not be heavily affected by the weather.
He said that Tuesday night's show went on as planned, and that Wednesday's show was still slated to occur with a smaller line-up. Tonight's event is still scheduled to occur.
"We know the talent will be 'in the house' and the community will be here to support it," Clark said. "Even if it takes snow shoes or skis, those in attendance will be treated to a evening of great talent."
Both Ugolini and Clark said that if they felt that traveling for any production would be too dangerous, they would cancel the event in question.
But if a show goes on with bleak weather ahead, Ugolini advises that caution be taken when traveling.
"I would advise that people use their better judgment," he said. "Check weather reports online. If you have any reason to believe that your safety will be jeopardized by traveling to a show, then don't do it."