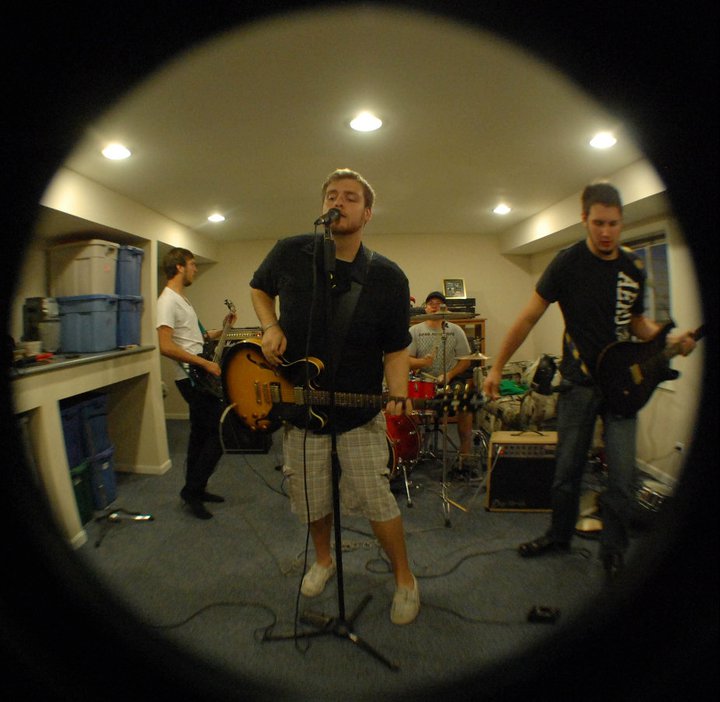 Lucinda-it's not just the name of your favorite traffic-jammed nightmare of an avenue.
Driving on Lucinda Ave. might be a mess between the hours of 9 a.m. and 6 p.m., but one local band has given the name a nice, new sound.
The Northern Star sat down with junior physical education major Jason D'Allesandro (guitar and vocals), junior visual communications major Mike Nichols (guitar), and junior physical education major Ryan Mazalewski (drums) of Lucinda, a local pop punk band, to discuss the release of their first EP and their recent run of killer shows.
NORTHERN STAR: I heard that you guys have an EP coming out.
JASON D'ALLESANDRO: Our first EP we have coming out is called Freddy Krueger Laughs at Dying Giraffes. That's why we have giraffes everywhere.
RYAN MAZALEWSKI: Yeah, we've just kind of been running with it.
NS: What kinds of shows have you guys been playing?
JD: We played the Rave [in Milwaukee] last week, and it was hands down the best show we had played until now, at least in my opinion. We played to a ton of kids who loved our style of music, and on our last song the crowd actually sang our lyrics back at us. Overall, it was just crazy, and right after we played we got to see [the ska band] Less Than Jake, so it was a blast.
MIKE NICHOLS: Personally, I've never played a show with a touring band like that before. And we have a show at Otto's on [Feb. 17] with the Toasters. So, everything's just coming together.
NS: How do you guys know each other?
JD: Me and Mike have been in a bunch of bands since we were kids together, and we really haven't gone anywhere outside of the northern hemisphere of Illinois, but Ryan was in some pretty big bands, so he's kind of our experienced one of the group.
RM: The grandfather.
JD: Yeah, he tells us when and when not to mess things up.
NS: So, Ryan, you've played with bigger bands before?
RM: Yeah, I played in dormlife and Midwest Blue. We played a lot of good shows.
JD: Sam Swanson from dormlife did all the backups on our album.
RM: He was also the center of Midwest Blue. He helped us out a lot of this CD. I've never done drums, I played on bass guitar in both bands. So this is the first time I've been on drums since high school. I actually came out here, I exited dormlife and wanted to go back to school. Jason and I met because he was in my department and we just started talking and he conned me back into playing.
NS: When did Lucinda officially form?
JD: It was September of last year.
MN: Everything's just kind of coming together. Like Jason said, we've been doing the band thing since we were 12 years old. And, what, 12 years later, it's finally coming together.
JD: We really try and rep DeKalb. Without DeKalb and NIU, none of us would have come together. Me and Ryan would walk down Lucinda from one of our anatomy classes to the next talking about the band.
MN: It just felt like it fit.
JD: We probably spent more time talking about the band than actually practicing. There was a lot of talking and planning.
MN: Dreaming big.
NS: You're playing with a lot of ska bands. Would you consider yourself placeable in that genre?
JD: Yeah, we're playing with the Toasters and Less Than Jake! We consider ourselves more pop punk, but punk and ska kind of go hand-in-hand. We're more poppy than most ska is, but at the same time, we're just out there trying to have a good time like they are.
MN: Exactly. Anyone that likes ska is probably going to like our music.
NS: I hear a lot of later-era Less Than Jake, but you know, with even less ska. I see the connection.
RM: You don't really see a whole lot of pop punk bands anymore. We're not going to try to just do what everyone else is doing. We all like older Blink-182 and stuff like that. We just want to have fun. A lot of our songs just came out. We just jammed and said, 'this is going in a good direction.'
JD: All the best stuff is the stuff that we've done in practice together.
NS: So, where would you say you fit into the local music scene here? It's a really diverse scene.
MN: Our first show was with Picture Perfect Disaster, Red Reserve and Jake Mack. Right there, you've got metal, you've got pop punk and you've got acoustic.
RM: We play with anyone that wants to do a fun show. We're all about just working the crowd and having a good time. We want to make sure you're going to come to our show and have fun. Even if you're not totally into our style, you're going to walk away and be like, 'those guys had themselves together. That was a good show.'
NS: You don't have to be a super fan of a genre to have a good time at a show.
MN: I think Cake sometimes finds its way into the mix. I love Cake. Both kinds!
NS: Tell me a little about your record label.
RM: Alarm Clock Records. It was started by Sam Swanson from dormlife. He's put out a lot of different independent music. He did some stuff with the singer from Dr. Manhattan. He's not in it to make any money, he's funded it all himself.
JD: He's not out there looking for what's going to be the next big thing. He goes with what he likes and puts it on his label.
NS: Where do you feel like you want to go with this band?
MN: We're pretty ambitious – tippy top, man!
JD: We just want to play. We'll pretty much play any show. We've got better venues, Otto's is coming up. Hopefully do some tours over the summer. We just want to work our way up the latter. It's a tough scene. If I can pay my bills and play music, I'd be a happy camper.
RM: We're working on getting a van, too.
NS: Gotta get a van!
Make sure to check out Lucinda's release show at Otto's for their first EP, Freddy Krueger Laughs at Dying Giraffes, on April 1.