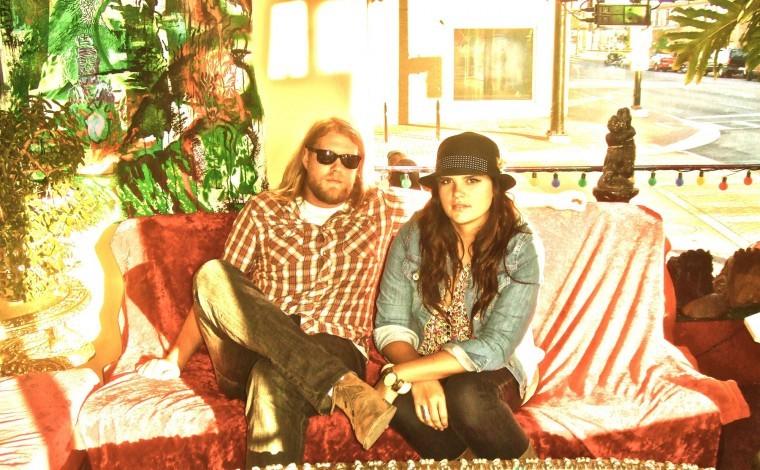 It's meant as a compliment when I say Carolina Story may induce vomiting.
The husband and wife duo that played their ethereal folk pop Friday at The House Cafe, 263 E. Lincoln Highway, are the most adorable couple ever, causing romantics to swoon and nihilists to keel over and heave.
Ben and Emily Roberts have been touring together for the entirety of their yearlong marriage, singing hopeful songs about human potential. Offstage, Ben teases Emily in his Arkansas drawl about her love for Shania Twain, and Emily razzes Ben regarding his soft Neil Young-esque voice. The couple has corresponding feather tattoos.
Take this time to squeal or spew; just get it all out before reading on.
Largely influenced by early southern music, Carolina Story is primarily a simplistic union of two acoustic guitars and a drum set, but employs a number of classic folksy instruments such as a harmonica, washboard and bells. With enough vocal harmonies to please Fleet Foxes, Ben and Emily sing, hum and whistle delicate melodies.
The percussion styling of Kraig Mewbourne almost stole the show with his jazzily orchestrated beats building energetically without being protrusive. It is disappointing to find that his splashy cymbals are absent on the band's newest studio album, When the River Met the Sea.
"Don [Chaffer] always makes these rules at the beginning of every album he produces, such as no guitar, no electric guitar or no bass, so this one was no cymbals," Ben said. "We didn't use any cymbals on the whole album."
Considering Ben and Emily graduated from VISIBLE SCHOOL, a music and worship arts college in Memphis; you would expect their music to be pietistic. The band, however, maintains that their faith is reflected in their music, but doesn't dominate it.
"It's a huge part of our lives, the daily relationship with God," Ben said. "But I wouldn't say our music is in the genre of Christian music."
Ultimately, the songs on When the River Met the Sea are well constructed, subtly swelling and ebbing away. Performed live, they are much more dynamic than even the record conveys.
To the readers still grasping the potency of the band's cuteness: Are you feeling okay? Let's get you some ginger ale.