Upstaging, Inc. uses resources to assist during COVID-19 pandemic
A Sycamore-based live event company is using its resources and personnel to assist in the fight against COVID-19.
Upstaging, Inc., 821 Park Ave., Sycamore, has handled lighting, transportation and more for concerts and corporate events since 1972. Over the years, its clients have included Beyoncé, Taylor Swift, The Rolling Stones, Adele and Paul McCartney, according to its website.
With the concert industry at a standstill due to COVID-19 concerns, the company has shifted to producing plastic room dividers and face shields for health care centers in the community and surrounding northern Illinois and Chicagoland areas.
"For us, it's not a big profit center," John Huddleston, director of live events for Upstaging, Inc., said. "It's basically trying to keep everybody employed — keep them moving and keep our culture of Upstaging together — so that, once this thing ends, we still have a great company with the great people that we had."
The company is manufacturing several thousand face shields daily and is ramping up production to make several thousand more, Huddleston said.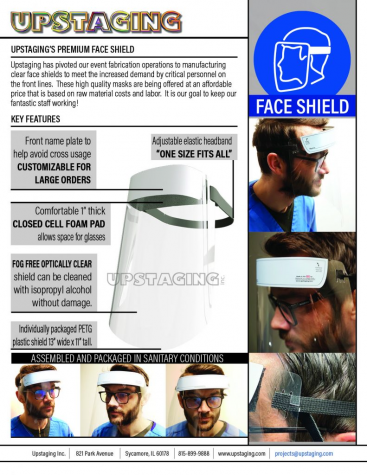 "As far as the [shields] go, we designed them seven days ago," he said. "We worked 16 hours a day trying to come up with a good solution.
The need to increase production of necessary equipment was addressed by Gov. J.B. Pritzker, who at a news briefing Monday announced the formation of the Essential Equipment Task Force, with the purpose of securing these efforts.
"Our innovative biotech companies and state-of-the-art manufacturers are teaming up with the state of Illinois to ramp up production of personal protective equipment, also known as PPE, through a newly launched alliance, the Essential Equipment Task Force," Pritzker said during the briefing.
After the shields received rave reviews from the Sycamore Fire Department, whose staff evaluated the initial batch, the company sent some samples to the state of Illinois. They managed to secure a large order from the state, which got them on track to produce more, Huddleston said.
"The state of Illinois ordered 7,200 of them for the mental health facilities around the state," he said. "We also have thousands of other orders from all different kinds of health care providers, nursing homes, retail workers [and] home heating companies."
In addition to manufacturing dividers and shields, Upstaging, Inc. is focused on its trucking services. The company's more than 100 semitrucks provide for the safe delivery of food and medical equipment.