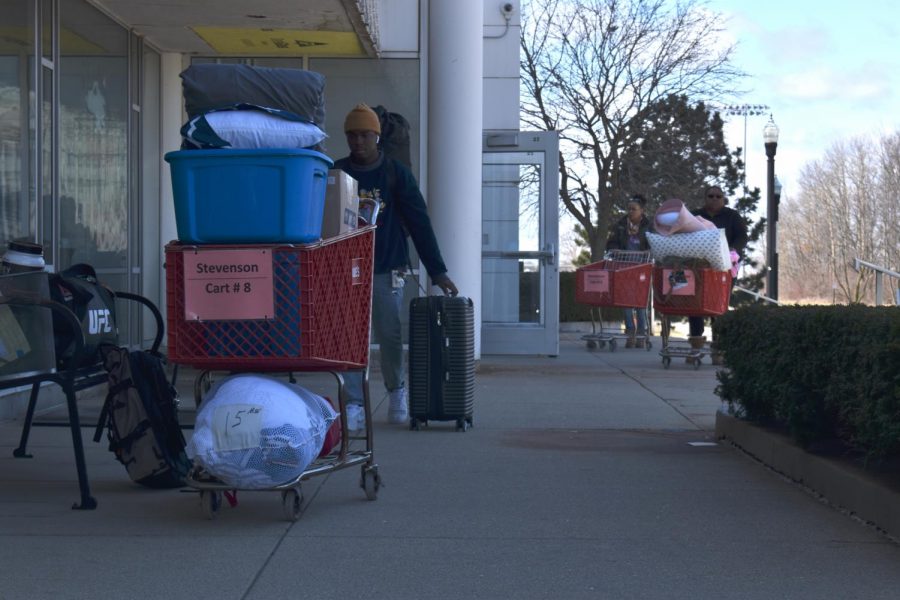 Noah Thornburgh
DeKALB — NIU Housing and Residential Services created new procedures for fall 2020 move-in. 
Testing 
Students will be required to take COVID-19 polymerase chain reaction tests prior to moving into residence halls, according to the Housing and Residential Services website. 
Students are required to be tested no sooner than seven days prior to their scheduled move-in date. Students are also required to share their results with NIU no later than 24 hours prior to their move-in date. 
Michael Stang, assistant vice president for Student Affairs, said he advises students to schedule a time to move into their residence hall, then contact their healthcare provider and health insurance company. 
Students are responsible for testing costs not covered by insurance, according to the Housing website. 
Once a student chooses a testing location, they should ask how long it'll take to receive the results, Stang said. The student should also ensure there is documentation showing results that can be submitted to an electronic drop box, Stang said. 
The Housing website will have an electronic drop box where students submit documentation of their COVID-19 PCR tests; the drop box will be available during move-in week, Stang said. 
Stang said only Housing staff will have access to students' test results and Housing will authorize whether or not the student can move in. 
Students moving into residence halls shouldn't come to DeKalb until Housing sends them a confirmation email, Stang said. 
If a student is unable to document their negative COVID-19 PCR test, they will not be able to access their residence hall. 
Students who test positive will be required to isolate at home for 14 days, according to the Housing website. 
If a student receives a positive test result, they should call the COVID-19 helpline at 815-753-0444, Stang said. The student will then be advised by their county health department and NIU to determine when it's safe to go to campus. 
Stang said NIU is encouraging students who test positive prior to moving into residence halls to quarantine at home if they haven't come to campus yet. 
Contact the Center for Student Assistance at studentassistance@niu.edu or call 815-753-8300 from 8 a.m. to 4:30 p.m. for questions about insurance or testing. 
Visit the Illinois Department of Public Health website for information on COVID-19 testing sites.  
Move-in 
First-year students can choose to move into residence halls on Aug. 19, 20 or 21, while returning students can choose between Aug. 21, 22 or 23. 
Northern View residents can move into apartments via an appointment from Aug. 10 to 14, with limited appointments available after Aug. 14. 
Students can bring up to two family members to help during the move-in process. Everyone is required to wear a face covering and practice physical distancing. 
There will be no NIU volunteers to assist during the move-in process. 
Housing will also offer early drop-and-go options on Aug. 6, 7, 8, 13, 14 and 16. Students can schedule a one hour time slot to take items to their room where it'll be locked until students return later in August. 
More information will be emailed to residence hall students in early August. Northern View residents will receive information via email late July. 
Visit the Housing website for more information.