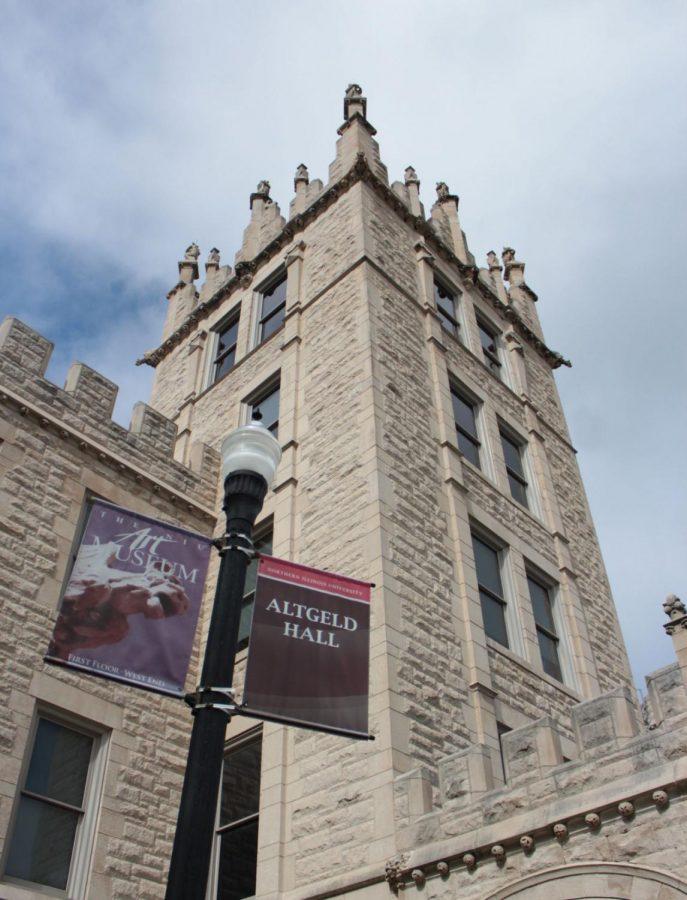 Northern Star Staff
DeKALB — The dean of students and other representatives from across campus met to discuss how health protocols will be enforced for the fall semester at a virtual Town Hall Meeting at 5:30 p.m. Monday.
Throughout the semester, students will be encouraged to report any COVID-19 symptoms and if they've been exposed to the virus, Dean of Students Kelly Wesener Michael said. There will be amnesty for exposure reports, so if any student comes forth with information about exposure, it will remain confidential and there will be no consequences for other people involved or campus organizations. 
Regulations will be set in place to tame spreading once students move into their dorms. Prior to moving in students must submit their negative test results and schedule an appointment to move into the dorms depending on if they're a first year or returning.
Upon entering the residence halls, students have to place their one card on the proximity reader at the reception desk to confirm residency in that specific residence hall, Dan Pedersen, Director of NIU Housing and Residential Services said. A student from Grant, for example, will not be able to enter Stevenson. However, students on different floors who reside in the same building can visit each other. 
The communal bathrooms will be cleaned and disinfected twice a day, Pedersen said, and the amount of available sinks will be reduced to condense spreading. 
Additional hand sanitizers will be installed throughout residence halls as well. The furniture in public areas throughout resident halls such as lobbies and lounges will be reduced and distanced, Pederson said.
Residential dining will be takeout only and Grubhub will be available, Pedersen said. Increased outdoor seating will be available at Stevenson, New Hall and Neptune Residence Halls. 
If a student does test positive for COVID-19 while living on campus, they should contact the COVID-19 Help Line at 815-753-0444. They should thenreturn home to isolate until they get the okay from health officials to come back. If an NIU student cannot return home, NIU will work with them to conduct isolation safely and get them on track with the recovery process. 
The classrooms will look drastically different this semester. For online classes, it will be either synchronous, meaning there is a specified time and students must meet and attend online lectures at a given time, whereas asynchronous there is no specified time and students can watch lectures on their own time, Renique Kersh, Associate Vice Provost for Student Engagement and Success said. 
Face-to face-classes are reserved for more hands-on classes requiring labs. Staggered classes will be split into groups: one group will be face-to-face one day, while the other group attends virtually, and they'll switch days, Kersh said. 
Hybrid classes are both face-to-face and online. Professors will notify students of the time and days they must attend in person. When classes take place in the classroom, masks are required, the rooms will be cleaned between classes and desks will be 6 ft apart, Kersh said. 
Although classes will happen mostly online, there will not be a reduced cost for tuition. Faculty are working to ensure an adequate opportunity for students to progress towards their degree, Kersh said.  
Tutoring will have extended hours and virtual convenience, Kersh said. The library will be open 8 a.m. to 6 p.m. every weekday. Weekend hours are still being discussed. 
Although the library has provided wifi hotspots and the opportunity to rent computers for the time being or the whole semester, the Student Emergency Fund remains accessible for students to fill out an application for technology needs, Kersh said. There will be maintenance done to the application on Aug.15, Assistant Dean Kelly Olson said.  
Since protesting has increased, Monique Bernoudy, Assistant Vice President of academic diversity, equity and inclusion said freedom of expression is important for NIU students, and part of that is social justice education. The Office of Diversity, Equity and Inclusion has revised their website, now including a Black Lives Matter page providing pages for wellness and mental health, readings and booklists, documentaries and films, podcasts and organizations to follow. 
Mental health is crucial during a time of uncertainty, Oslon said. Counseling this year will be offered in-person and virtually. NIU also offers group counseling, for students who want to network with other students going through similar issues. The center for student assistance will also be available to connect students with resources in Dekalb and surrounding areas. 
Many questions were answered concerning living on campus, campus life, classroom safety and diversity, equity and inclusion this semester, however, it is advised that students who have further questions send them to DeanOfStudents@niu.edu.
Correction: This story has been edited to correct the number for the COVID-19 Help Line.