Down the Lines: NFL Week 5, NCAA football predictions
For college football junkies, last week solidified the opinion that the Big 12 is eliminated from the College Football Playoff. Oklahoma lost for a second straight week to an unranked opponent and Texas, who was considered to be the "second best" team in the conference according to ESPN FPI, lost to TCU after needing overtime the week before to win against Texas Tech. In a year where the conference will have no non conference wins to boost it's stature, a two-loss Big 12 champ has a slim chance at the playoff. 
With the Big 12 being unofficially out for the count, who does that open the door to? Paging the Big 10, PAC 12, and SEC runner-up. As a fan of the playoff system, I cannot wait for the committee to get in a room starting in late November and have to justify how they want to rank the top six. The SEC has three teams that look worthy in Alabama, Georgia and Florida. The ACC doesn't look like a one-man wrecking crew thanks to Notre Dame and now Miami (FL) breathing life into the conference. Lastly the Big 10 has arguably the most complete team in the country in Ohio State and they haven't taken a snap yet. This week's college games should provide more light on who is for real and who just started hot. 
Last week's picks were on the "rough" end. I went 7-6 overall, but fear not as a losing record doesn't scare me. After all, I am related to both Jets, Browns and Vikings fans. Being just above .500 is sort of in our DNA.
This week there are six matchups: Three NFL and three NCAA games. All look to be great match-ups on paper, with lots of historical roots, but all have the opportunity for good returns. As always play and gamble responsibly. 
NFL Week 5
Tampa Bay Buccaneers vs. Chicago Bears (+3.5, +148) O/U: 44.5 Kickoff: 7:20 p.m. Thursday on FOX
A Thursday night showdown against quarterbacks Tom Brady and Nick Foles. The last time these two squared off in primetime was when Foles led the Eagles to the upset win over the New England Patriots in Super Bowl LII. The times have changed though, as Foles is now on his second team after winning a Super Bowl, and Brady has begun to show the effects of age on the body. Lucky for both of them, both their respective teams have solid defensive units.
The Bucs rank fourth in total yards allowed, averaging 312 yards-per-game, fourth in take-aways with eight. Brady has also started to heat up himself. Ranking now inside the top-10 among all quarterbacks. Brady is projected to be without wide receiver Chris Godwin who last year was integral in head coach Bruce Arians offense. Expect to see the likes of running back Ronald Jones and receivers Mike Evans and Scotty Miller being utilized for this pass heavy scheme.
The Bears are looking to bounce back after a very stagnant outing Sunday against the Indianapolis Colts. Foles will need to target receivers Allen Robinson and Darnell Mooney a lot against a stout defense that has one of the best front seven in the league. Also look for tight end Jimmy Graham to have a more active role in this play-action offense. Graham has been targeted 15 times in the last two games, making him one of Foles top-four receivers to throw to. 
The Bears showed last week that they struggle to beat good teams. Even with the home field advantage, I can't take the Monsters of the Midway against this Bucs team. I'm taking Tampa Bay to win this one and the Over.
New York Giants (+9.5) vs. Dallas Cowboys (-460) O/U: 54 Kickoff: 3:25 p.m. Sunday on CBS
This is a classic NFC East matchup. Though both teams' records show they could be out of the playoffs, the NFC East is all about the same; no one has separated themselves from the pack, so playoff aspirations are still alive for both squads.
The Cowboys have the most potent offense in football this season, averaging just under 510 yard-per-game. The Cowboys' Achilles heel has been it's defense. Currently, Dallas holds the third worst total defensive ranking, surrendering 430 yards-per-game on average. Quarterback Dak Prescott has been able to conduct a steamrolling offense for the last four games to only prevail with one win. Prescott has been given an arsenal of offensive firepower in running back Ezekiel Elliott and receivers Amari Cooper, CeeDee Lamb, Michael Gallup and Dalton Schultz. The least owner Jerry Jones could do is bring in a defense that could help lead this team to the playoffs.
The Giants are beat-up on offense and defense this year. The loss of running back Saquon Barkley hurt the offense's chances of having a balanced attack. The front office tried to course correct by signing Devonta Freeman to a one year deal to fill out the hole left in the backfield, but thus far it's produced little results. The Giants defensive unit is top five overall, but they have not faced an offense as lethal as this Cowboys squad. 
This game should not be close, no matter how bad Dallas's defense is, a beat-up Giants offense should not put up a fight. Take the Cowboys outright and take the over as Prescott and company cook-up another high scoring game.
Minnesota Vikings (+7) vs. Seattle Seahawks (-320) O/U: 57.5 Kickoff: 7:20 p.m. Sunday on NBC
A Sunday night game against two teams with non-existent defenses, one MVP-caliber quarterback and another who has a reputation for choking in prime-time. This face-off between the Vikings and the Seahawks has the ingredients to make for a boring Sunday night game.
Starting with the home team, the Seahawks are just a luckier version of the Dallas Cowboys. Seattle's offense ranks third in total yards, passing yards and second in points-per-game. Quarterback Russell Wilson is cooking up an MVP season in the making. Wilson has thrown for over 1200 yards, 16 touchdowns and only thrown two interceptions. Wilson's offensive skills players too are having great starts to this campaign. Running back Chris Carson has recorded five total touchdowns and receivers DK Metcalf and Tyler Lockett are both over 300 receiving yards and have recorded multiple scores.
The Vikings on the other hand, have struggled offensively. Quarterback Kirk Cousins has thrown for under 900 yards and has a one-to-one touchdown to interception ratio. The one slight upside has been the constant reliance on running back Dalvin Cook who has over 400 yards rushing and has cut down on fumbling the football. Cousins is going to need protection from his front seven who have allowed the former Pro Bowl quarterback to be sacked 10 times in four games. 
The Seahawks ability to control the run in the first four weeks of this season will prove to be helpful against a team that has struggled to connect over the top. Take Seattle to outpace the Vikings in this one. At 57.5 points, take the over as well.
NCAA Saturday Slate
Florida Gators (-265) vs. Texas A&M Aggies (+6.5) O/U: 56.5 Kickoff: 11 a.m. Saturday on ESPN
Gators Quarterback Kyle Trask has proven that his impressive 2019 campaign was not a fluke. Trask has completed 72% of his attempted passes, throwing 10 touchdowns to one interception. The Gators front seven on offense has also protected the signal caller very well, only allowing Trask to hit the turf three times all season.
Trask isn't the only star coming out of Gainesville this season though. Tight end Kyle Pitts looks to be the next Travis Kelce. Pitts has over 225 yards receiving and has caught six of Trasks' 10 touchdown passes. This offense can compete for the SEC East this season. 
The Aggies' offense though just seems out of sorts so far into the season. Quarterback Kellen Mond has completed 58% of his pass attempts this season for a total of only four scores. The Aggies traditional air-raid style offense has not found a groove yet, which is not a good thing going into a game against the third most lethal offense in the SEC.
I like the Aggies at +6.5 to cover, but I do not think Trask and the Gators will be upset. The over looks very satisfying at 56.5 points as well. 
Texas Longhorns (+112) vs. Oklahoma Sooners (-138) O/U: 72.5 Kickoff: 11 a.m. Saturday on FOX
I know I just spent time ripping both these teams apart earlier in the column, but this is a classic college football game that should be fun to watch. Don't expect it to be a defensive gridlock though. 
The Longhorns and Sooners come in as the top two offenses in the Big 12, average over 500 yards of offense a game. Longhorn quarterback Sam Ehlinger has thrown 14 touchdowns this season to only two interceptions and just under 1000 yards. 
Sooners freshman quarterback Spencer Rattler has thrown 10 scores, but also turned the ball over more for the Sooners. Rattler will need to cut down on the freshman mistakes if he wants to snap Oklahomas' losing streak. 
Texas has a 67% chance of beating its arch-rival Saturday in Norman, according to ESPNs FPI. I think that Texas wins this in a high scoring shoot-out, keeping a slim chance for the conference to sneak into the playoff. I'm not going to pick a winner, but I will say go all in on the over this Saturday.
Miami (FL) Hurricanes (+14.5) vs. Clemson Tigers (-650) O/U: 63.5 Kickoff: 6:30 p.m. on ABC
At the start of the season, no one had its eyes on this Hurricanes team, who was middle tier in the 2019 season. Currently though, Miami is the most explosive offense in the ACC, averaging just under 500 yards-per-game. That is better than the conference favorite, Clemson who ranks third in the conference.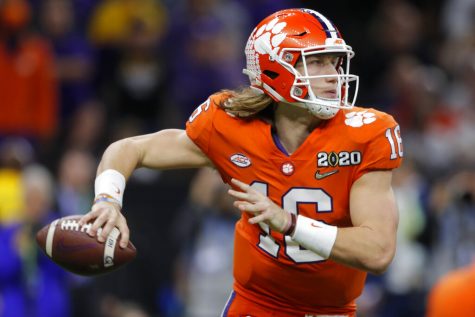 The Hurricanes famous turnover chain has also returned this season. Currently the defense has forced six turnovers making head coach Manny Diaz one of the best defensive units in all of college football.
Miami has not faced a test as stout as this Clemson squad, who has played the bottom half of the ACC to start its season. The Tigers though have not shown any sign of weakness though in those games. Quarterback Trevor Lawrence and running back Travis Etienne look like top ten draft picks. The Defense has proven to be stout in all aspects of the game, ranking inside the top four in all defensive metrics according to ESPN. Though these numbers are against inferior teams, there is no reason to doubt this unit against the Hurricanes.
Clemson has room to take a loss in the regular season thanks to the Big 12 collapse in the last two weeks. This will be a great test for both squads early on in this conference season. I like the Hurricanes at +14.5 to cover, and it would not surprise me if we saw an upset in Death Valley Saturday Night. From an over-under perspective, I take offense over defense any-day. Take the over at 63.5