Down the Lines: NFL Week 6, Georgia vs Alabama predictions
Saturday felt like I was trapped in the Bill Murray movie "Groundhog Day," watching college game after college game have the over-under line destroyed by one thing: the lack of defense across the NCAA. 
I expected the Oklahoma-Texas game to have no defense, but as I watched highlights from the morning kickoffs and then into the afternoon games, this dumpster fire defense continued. I was watching the same thing play out over and over again across the country. 
From a gambling perspective, last week was about as bad as the defensive products that were put out on the field. I went 6-6 in overall picks, but out of those wins only three came from picking a winning team, thanks to Tampa for not being able to play defense down the stretch.
Regardless, one bad week doesn't worry me. It is a long season with lots of opportunity. This week I've got six games to look at this week. Hopefully I finish better than .500, but as always gambling is based on risk, so play responsibly.
NFL Week 6
Green Bay Packers (-136) vs. Tampa Bay Buccaneers (+2.5, +116) O/U: 47.5  Kickoff: 3:25 p.m. Sunday on Fox
Are the Packers the best team in the NFC this season? I'd argue that going 4-0, and ranking inside the top-five in all offensive team categories gives Green Bay the top slot through five weeks of the season in the NFC. The offensive line for Green Bay is one of the top- overall, according to Pro Football Focus metrics. The Packers offense has been cruising like a new car even without top receiver Davante Adams. 
Quarterback Aaron Rodgers grades out as the best quarterback so far through five weeks in the NFL, having an overall offensive score of 96.3. Rodgers has been sacked only three times and has only thrown the ball away in seven of his 146 drop backs.
Rodgers has to rely on other weapons in Adams' absence, and he seems to have found his new target in tight end Robert Tonyan who has a drop grade of 80, making him one of the most reliable tight ends to target in the league. 
Tampa Bay though has put together a very good defensive roster. Currently the top graded defense by PFF. The Bucs ranked third as a pass rushing unit and took the top spot for defensive coverage against receivers. Defensive lineman Vita Vea along with safety Antoine Winfield Jr. and Defensive end Jason Pierre-Paul will also need to get to Rodgers for his offense to stand a chance on Sunday. The Packers are not a team you simply outscore on Sundays.
It's hard to stress how good this Packers team has been without Adams, and the defense proved capable of holding a powerful offense in check in their last game against Atlanta. I'm taking Rodgers and company over the Bucs and also taking the over on total points. 
Chicago Bears (+130) vs. Carolina Panthers (-154) O/U: 44 Kickoff: Noon Sunday on FOX
This game is going to be dependent on if the Panthers have Pro Bowl running back Christian McCaffrey back in the lineup on Sunday. McCaffrey is eligible to return to play following his three-week stint on IR, but word has yet to trickle down on if he will indeed suit up Sunday in Charlotte.
Without McCaffrey, the backfield has been in good hands in backup Mike Davis, who has become a saving grace for most in the fantasy football realm. Currently, Davis ranks third in offensive-graded half backs by PFF over Minnesots Vikings' Dalvin Cook, New Orleans Saints' Alvin Kamara and Seattle Seahawks' Chris Carson. Some can argue, and points should be given, that Davis has been just as effective as McCaffrey at handling the load.
The issue Carolina will face is just how streaky the defense has been and now facing an offense that is bottom half in all categories, it's clearly a push. Bears linebacker Khalil Mack should have no trouble adding to his sack total, same goes for defensive end Akiem Hicks.
Vegas really thinks that both these teams are evenly matched, and while Chicago seemed to get its offense going a bit against Tampa last week, that game should have been a loss. I'm going to take the Bears in this one as I think their ability to stuff the run will force quarterback Teddy Bridgewater into mistakes. Bears win by less than a score.
Arizona Cardinals (-142) vs. Dallas Cowboys (+2.5, +120) O/U: 49.5 Kickoff: 7:15 p.m. Monday on ESPN
The Cowboys suffered a huge loss after quarterback Dak Prescott suffered a compound fracture and dislocation of his ankle and underwent season-ending surgery Sunday night, so it's hard to really handicap this game correctly. Dallas is now in the hands of vetern signal caller Andy Dalton. Dalton has the luxury of multiple weapons in running back Ezekiel Elliott and receivers Michael Gallup, Amari Cooper and CeeDee Lamb. Offensive weapons are plentiful, but the lack of reps by Dalton with the first team could cause hiccups.
The good thing for Dallas is they are facing one of the five-worst defenses in the league, according to PFF. Arizona has a terrible pass-rush defense and with limited success getting to the quarterback, the Cardinals secondary has struggled at times to prevent big plays which does not bode well against one of the most loaded offenses in the league.
The Cardinals offense is where they have won games thus far this season. Quarterback Kyler Murray who has rushed for almost 300 yards of his own while throwing eight touchdowns so far this season. Murray's issue though has been his six interceptions. Murray has shown promise at times to be an MVP-caliber quarterback, but still lacks the discipline needed to overpower teams. 
I feel for the Cowboys, who's chances of making the postseason dropped exponentially after Prescott's season ended, but I think growing pains happen this week and the Cardinals knock off "America's team."
Washington Football Team (+130) vs. New York Giants (-154) O/U: 43.5 Kickoff: Noon Sunday on CBS
I've got to be insane for putting Washington on a bet slip right? I never told you every game was going to be fun to watch; sometimes the best opportunity for profit comes from the ugliest of games. Which is what we have when a 1-3 Washington Football Team travels to the Meadow Lands to face the one win New York Giants.
Neither team is good at the game they are paid to play. Both the Giants and Washington rank in the bottom-10 of all grading categories, according to PFF. The Giants have only scored 81 points this season through five weeks, while Washington has them beat by just eight with 89.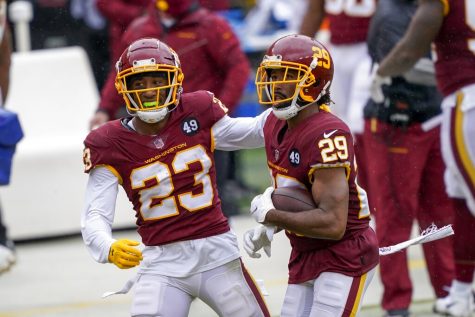 Giants quarterback Daniel Jones will need to find something from his depleted receiving corp or maybe running Devonta Freeman, who came in to replace the injured Saquon Barkley, finally hits his stride against this terrible Washington defense. 
This is going to be a cage match between two of the worst teams in the league. The only thing either of these two franchises have going for them is that they aren't the New York Jets. That being said, I'm feeling as though Washington finds a way to squeak this one out and get possibly their only win of the season. 
Cleveland Browns (+3.5, +164) vs. Pittsburgh Steelers (-198) O/U: 51 Kickoff: Noon Sunday on CBS
The Cleveland Browns have one loss and have quietly been plotting their way through a schedule that did not look easy for them to sit just one game back of the Pittsburgh Steelers for sole possession of the AFC North.
The last time these two teams faced each other it saw Browns' defensive end Myles Garrett physically assault then-Steelers quarterback Mason Rudolph in an epic brawl that will not be forgotten. This go around, the actual product on the field should make for an even better fight.
PFF has graded the Browns offense out over the first five weeks as a top-five caliber unit, also grading them in the top spot for rushing thanks to a dynamic duo in the backfield of Nick Chubb and Kareem Hunt. Both will need to have productive games if they want to see themselves in the win column against the Steelers.
On the other side of the coin, the Steelers have been one of the most stacked defensive units, holding opponents to less than 70 rushing yards a game so far this season. 
I see this game as pure value, but I also live with a Cleveland Browns fan. The Browns are for real and have a legitimate shot at punching a playoff ticket this season, but they first need to win against Pittsburgh. Since 2018, the Browns have only managed one win against their rival: That changes this week. I'm Taking Cleveland over the Steelers. 
NCAA Saturday Slate
Georgia Bulldogs (+6.5, +198) vs. Alabama Crimson Tide (-250) O/U: 56.5 Kickoff: 7 p.m. Saturday on CBS
Round one of the SEC Championship? Currently that is what this game looks to be, as the  top team in the SEC East travels to Bryant-Denny in Tuscaloosa to face the second in the nation Crimson Tide. The Tide are 4-0 against the Dawgs since 2012 and open with a 60% chance of winning Saturday night according to ESPN FPI.
On paper, the better team is Alabama. Quarterback Mack Jones is having a Heisman-worthy season thus far, throwing for 1,101 yards with eight touchdowns to one interception. Jones has two of the best offensive weapons in college football in running back Najee Harris and receiver Jaylen Waddle. Harris and Waddle have combined for 13 scores and over 700 yards. 
Everything I just said points to a Tide victory, but the Tide's history with being favored by less than seven points tells a different story. ESPN's Chris Fallica, also known as the Bear, tweeted out this tidbit on those considering wager on the Tide.
So in the last eight times Vegas gave Bama a formidable opponent, they have been less than stellar. Also under head coach Nick Saban the Tide have been favored by less than 7 just five times and have lost four of those outright.
To add to that insult, the Tide will be without Saban on the sidelines and at practice due to his positive COVID test. The head coaching duties will now fall to offensive coordinator Steve Sarkisian, who previously was the head coach at USC from 2013-2015. 
I'm going to get a ton of hate for this pick and maybe Sarkisian can keep his team together and prove me wrong, but I don't believe we will be hearing "Roll Tide!" out of Bryant-Denny this Saturday. I'm taking the Dogs at 6.5 against the spread and a Sabanless Tide.