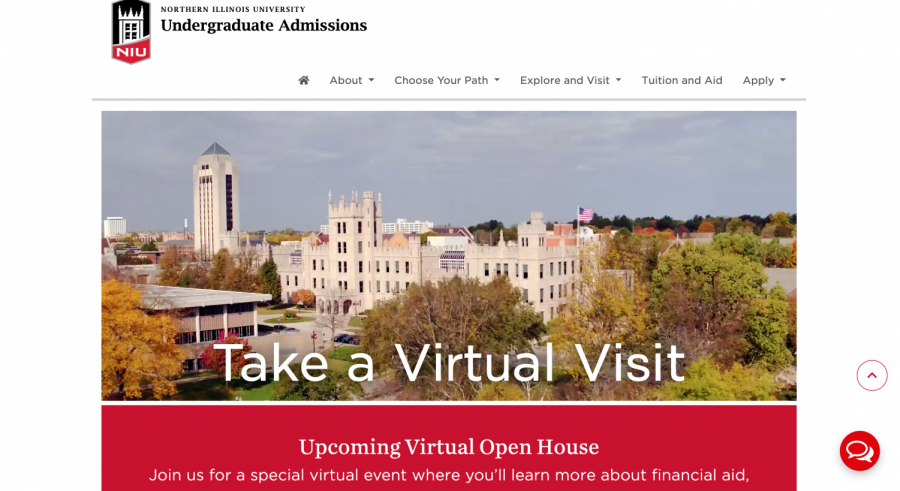 DeKALB – Prospective NIU students are viewing campus through their computer screens, rather than in-person this year. Potential students are still turning out to the virtual open houses as 400 people attended the Nov. 11 virtual open house, said Tressman Goode, associate director of admissions.
November's open house was the highest attendance rate for the three virtual open houses in Fall 2020, Goode said. 
Last November, a little fewer than 1,250 potential students attended the revamped open house, according to a November 2019 Northern Star article.
Goode said the open houses are run through live chats and videos with NIU representatives. There are also videos that prospective students can watch.
The virtual houses are offering presentations that discuss managing college costs, choosing a major and students are able to ask questions directly to a live student panel. There are more than 50 videos that discuss NIU academics, campus resources and general information about the university, Goode said.
At the virtual open houses, prospective students can create a more personal experience for themselves. Students along with their guests can return to the virtual event. They are also able to go back online after the virtual open house to see any presentations or OnDemand videos they missed.
Various departments around campus are available for live chats. The virtual open houses are hosted through PlatformQ-Education. PlatformQ-Education is a leading virtual platform for recruitment engagement and higher education, Goode said.
The main difference between on-campus and virtual events are the in-person interactions. The platform does not feature any face-to-face interactions, there are only text chats. Students and guests who attend are not able to experience being on campus. 
"As we know, the beauty of our campus, the physical academic and student support spaces, and the face to face interactions with our campus community are all key components to a student's decision on selecting NIU," Goode said. "We work closely with our campus partners to try to offset these missing pieces in our virtual experiences through the live chats, presentations, and OnDemand videos." 
The virtual admitted student day events had over 800 guests for an event date in Spring 2020.
The next virtual open house is from 10 a.m. to 12 p.m. on Dec. 5. Prospective students can register through the NIU website.