Reduced fees for toll violations end Dec. 30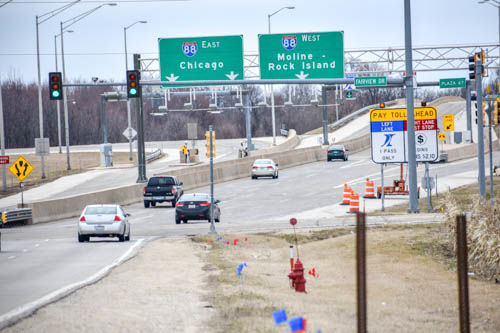 DEKALB – The Illinois Tollway's window for reduced fees for toll violations assessed before June ends this month. Drivers with a currently reduced toll violation have through Dec. 30 to pay a reduced fee of $3 per toll violation for passenger vehicles. After that date, violations will return to the standard $20 per violation, according to the Illinois Tollway. 
Initial fees for toll violations will remain at $3 for every unpaid toll in 2021.
The Illinois Tollway has lost out on nearly $90 million in revenue by allowing violators to pay a reduced $3 fee on more than 140,000 unpaid tolls. The reduced rates were initiated in June as part of the Tollway's TOLLING 2020 reform package, according to a Wednesday news release.
"Thousands of drivers facing outstanding toll violations have already taken advantage of this program,"  José Alvarez, Illinois Tollway Executive Director said in the release, said. "We launched this initiative to provide a six-month window where existing violations were aligned with our new reform measures, and we want as many individuals to take advantage of the relief as possible."                                                                                                                
In the first two months following the reform's release in June, about 65,000 outstanding violations were paid. The figure is about seven times greater than the number of cleared violations during a similar time period following a 2009 amnesty initiative that was similar in nature, according to the news release.
In October, the Illinois Tollway was continuing to average about 5,600 payments weekly, with the average payment being about $42, according to the release.
Drivers who are looking to pay unpaid tolls and violations or are wanting to learn more about the reform package can visit the Illinois Tollway's website at illinoistollway.com.
The Illinois Tollway is a user-fee system that receives no state or federal funds for maintenance and operations. The agency maintains and operates 294 miles of roadways in 12 counties in Northern Illinois, including the Reagan Memorial Tollway (I-88), the Veterans Memorial Tollway (I-355), the Jane Addams Memorial Tollway (I-90), the Tri-State Tollway (I-94/I-294/I-80) and the Illinois Route 390 Tollway.
Editors Note: This story was updated at 4:30 p.m. Dec. 4 to correct an error. The story described the reduced fees to end Dec. 30 when it should've stated that reduced fees will continue into 2021 and that only reduced fees for toll violations assessed before June end this month.